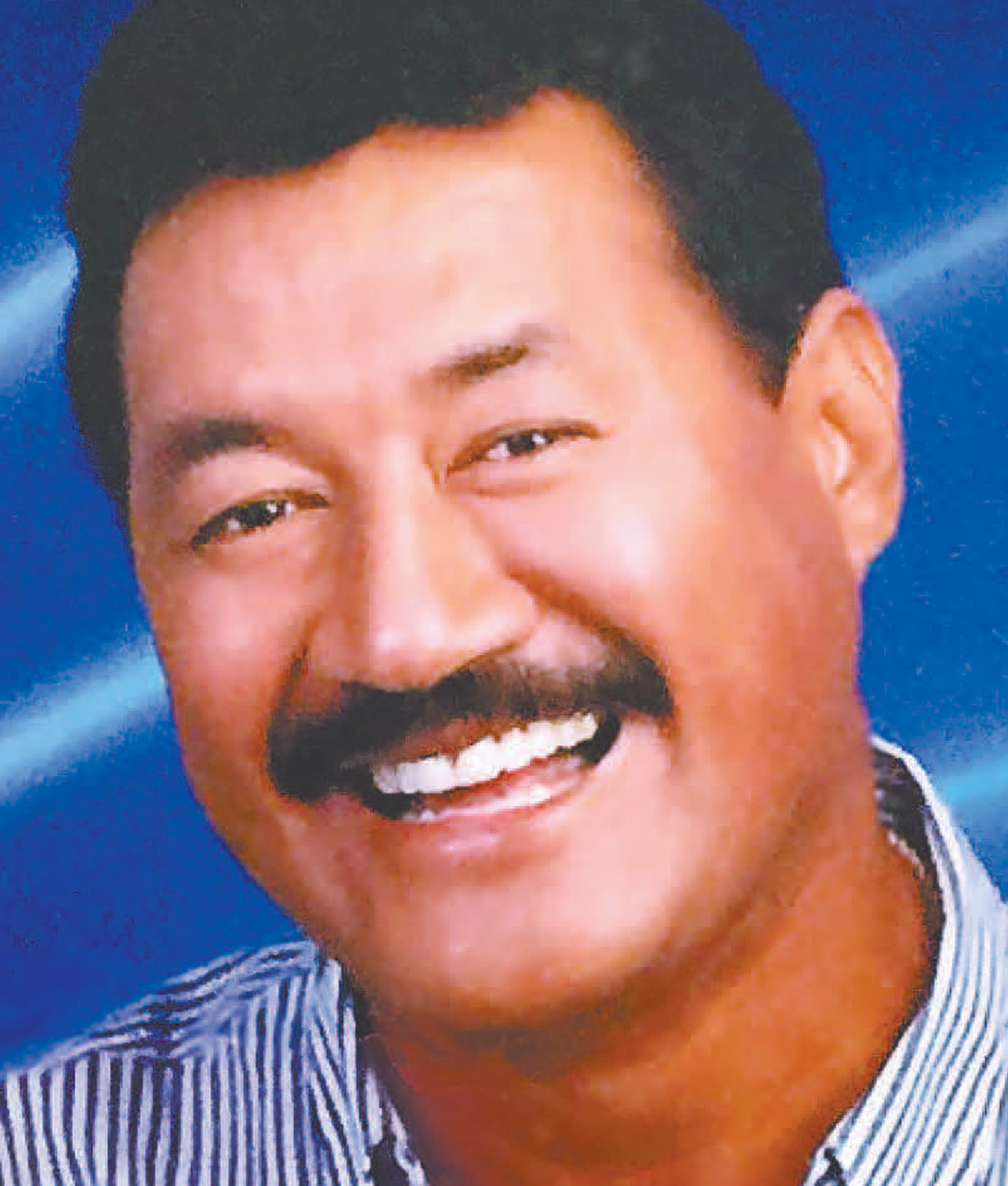 Remembering Nephi Hannemann "The Polynesian Man" FEBRUARY 6, 1945 - MARCH 31, 2018
A celebration of life will be held on Saturday, May 12, 2:30 to 5:30 p.m., at the Ala Moana Hotel Garden Lanai, where Nephi performed for many years
Waikiki headliner and show business celebrity Nephi Hannemann, 73, passed away peacefully in his sleep in the early morning of March 31 in Los Angeles, where he had relocated to be with his daughter, Noelle, and grandchildren. Hannemann was the brother of former Honolulu mayor and tourism executive Mufi Hannemann.
Nephi, of Samoan, German, and English heritage, was born in American Samoa to Gustav and Faiaso Soliai Hannemann. Of royal lineage, the Hannemann's maternal grandmother was the daughter of King Misipope Su'apai'a, once the ruler of the largest island in the South Pacific, Savai'i. Their paternal grandmother's sister was Queen Makeleta, the last Queen Tui Manu'a of Samoa. Their maternal grandfather was Paramount Chief Pinemua Soliai, whose father Muliufi, was a signatory to the deed of cession between the United States and what is today known as American Samoa.
The Hannemann family moved to Hawaii from Guam in 1953. Nephi attended elementary schools in Manoa and Kalihi, Dole Intermediate School, and Farrington High School, graduating in 1962. He was the quarterback of the Governors' football squad, where he began a lifelong friendship with classmate Ed "Skippa" Diaz. The 6'4", 230-pound athlete went on to become an all-conference quarterback at Ricks College in Idaho and then transferred to the University of Hawaii to continue playing football until he traded his cleats for a career in show business.
Nephi liked to remind his kid brother, Mufi, that he was the first head of the City and County back in 1970, decades before Mufi became mayor. H e was referring to his band, dubbed Nephi and the City and County, which performed at Dan's Den on Keeaumoku Street during his nascent years in show business. Nephi and a cousin, Gordon Broad, put together the quintet immediately after he had been offered the gig. But they needed a name. One evening, while the two were driving around town, they saw a city street cleaner at work and decided they'd call themselves City and County.
They were joined by bassist Imaikalani Young, guitarist A.W. Smith, and drummer Lee Gonsalves, all versatile singer-musicians. They immediately amassed a great local following and he joked that once the band started performing at Dan's Den and later the Jade East, "There hasn't been one fight in here." He may have been joking, but it was also a testament to his ability to entertain and captivate an audience with his singing, wit, and sincere desire to perform.
Nephi had the good fortune of performing during the heyday of live entertainment in Waikiki. He recalled one night in 1968, he and a "bunch of his buddies were making a lot of noise" at the Don Ho show at the fabled Duke Kahanamoku's. Ho challenged the group to sing, and Nephi, true to his nature, accepted the dare.
Don was so impressed he made Nephi a part of his showbiz ohana. Eventually he struck off on his own and that's how City and County came to be. His debut album, "Nephi, The Polynesian Man," was a big hit locally. Over the course of his long career, he would entertain at venues like the Imperial Showroom, Naniloa Crown Room, Ala Moana Hotel Garden Lanai, Ilikai Canoe House, the International Market Place, Oceania Floating Restaurant, and Hilton Hawaiian Village. He played Las Vegas, Reno, Tahoe, Los Angeles, Vancouver, and DisneyWorld, and even took his troupe to perform in Massachusetts at Harvard University when Mufi matriculated there.
When he opened his first major showroom at the Ilikai's Canoe House in 1973, Ben Wood stated that Nephi, "The Polynesian Man," had "overnight developed into one of Waikiki's brightest stars." Wayne Harada labeled him "Mr. Excitement." He brought flair and creativity to his nightclub act. His show at the Ala Moana Garden Lanai, for example, was a contemporary Polynesian and Las Vegas revue at its finest, backed by an all-star cast of musicians, dancers, and back-up singers that ranked with the best. And, of course, Nephi's voice, patter, dance, and panache made his show a must-see for tourists and locals alike. One was quick to notice and be impressed with the tremendous influence of his parents, family, faith, and heritage on display when he paid homage to them throughout his show. His contemporaries were the marquee names of the 1970s and beyond, who were also some of his closest friends: Dick Jensen, Iva Kinimaka, Sam Kapu, Loyal Garner, Melveen Leed, Jimmy Borges, Teddy Tanaka, and the Society of Seven, to name a few, not to mention the legendary Don Ho.
Nephi loved to sing. His signature tune was a song he arranged, "Samoan MedleyLet Me Hear You Whisper/Siva Siva," a love song that mother Faiasowho he said was the only music teacher he ever had or neededtaught the family. But he especially enjoyed composing. A family favorite was one he penned with Iva Kinimaka, "Christmas Time Again Aloha," which he, Iva, and brother Mufi regularly performed at Honolulu City Lights.
The versatile entertainer was a co-producer of the Charo show, produced luau shows at Sea Life Park, and also teamed up with Loyal Garner, Dick Jensen, Iva Kinimaka, and Melveen Leed at one time to perform as "HVB-Hawaii's Very Best." He acted in a Disney film, "Castaway Cowboy," with James Garner and Vera Miles, and was in several episodes of the original "Hawaii 5-O," "One West Waikiki," and "McCloud." He published a business and travel magazine when he resided in Kihei called Maui Quarterly, and enjoyed writing screenplays and other material.
The Hannemann family remembers Nephi as "the Rock," who provided strength in times of adversity. Says Mufi, "We would look to him for advice and inspiration. He would have been an awesome chief back in the day of warring factions because he was highly intelligent and a strategic thinker." He skipped a grade in Hawaii when his family moved here because he excelled in the classroom.
He was also known for being very generous and always willing to help family members and friends at a moment's notice. Sister Nua, who lived with Nephi, wife Kathy, and daughter Noelle, recalls that upon the passing of their mother when she was just a teenager, "He was so caring and loving and tried his best to fill the void of my momma. When I had my own family and kids, we leaned on my big brother a lot." Noelle said, "My dad absolutely adored me and I always felt it. He was one of a kind, always there for my kids and me, flying out to California as often as he could for weeks on end and we never wanted the time to end. My dad was the best!"
Nephi is survived by his daughter, Noelle, for whom he composed "Baby's Lullaby," and his three grandchildren, Samanu, 14, Soliai, 13, and Sinalei, 5, and grandniece Billie, 19.
In addition to brother Muliufi Mufi, he is survived by brother Albert Miller, sisters Lady Va Maughan and Gafanua Nua Memea, and many loving nieces and nephews and brothers and sisters in law. He was predeceased by mother Faiaso and father Gustav, brother Gus Afimutasi, sister Cecelia Titi, and wife Kathleen.
A memorial service will be held at the Santa Monica LDS Stake Center in California on April 30, where Nephi attended church. He will be laid to rest at the Laie Cemetery on May 11, next to father Gustav and Sister Titi.