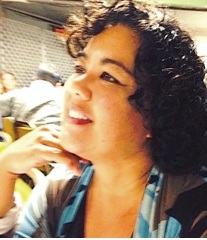 Lisa passed away and ascended into Heaven on May lst, Lei Day in Hawaii, 2020 surrounded by her loving family.

Born in Wahiawa on June 6, 1967, she graduated from Leilehua High School class of 1985. She went on to earn her Associate of Science Degree at Leeward Community College. After which she ventured to Vallejo, California, for a few years before moving back to Hawaii. She was employed at Wyland Galleries and Aloha Airlines before settling in as an Educational Assistant on Maui, first at Kahului and finally for Kula Elementary school.
Lisa married the love her life, Ralph Kamakaiwi and raised two children … Marcus and Mia. She was always very proud and beamed at the accomplishments of her children who excelled in long distance running and soccer. Both attended King Kekaulike High School, where she touched and met many inspirational teachers who played critical roles in the lives of her children. Lisa was always one to organize and lead our family's annual Christmas Party celebrations, She had a passion for creating handmade art pieces that brought great joy to her, as she gave them to family and friends. She was well known for her kind, sincere and compassionate spirit… she will be sorely missed.
The "collateral beauty" that came along with her long battle with cancer was the support from the Queen's Medical Center and more specifically Dr. Clayton Chong, Dr. Bernstein, Kanani Yojo and the Oncology Unit Staff. Despite the onset and uncertainties of the Pandemic…all displayed courage and a smiling face for each day, being there when others couldn't, truly displaying Heaven's Love. The beauty would be incomplete to not mention her Aunt Shirley, who was always there to support and lift her spirits; the love and support of her sisters, nieces and nephews, in-laws, all her extended ohana, including hanai brother Scotty… friends far and wide, during her brave fight with cancer.
Lisa is survived by her immediate family Ralph, Marcus and Mia. Her father and mother R. Doug and Joyce Aton; sisters Kris Kanani (Ama, Napahu & Tapu), and Robyn (Dewey Kauka Cyrus, Tatum, Seth and Kaeo).

A Celebration of Life will be planned in the near future.