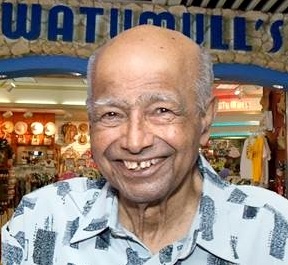 "Be Useful!" This was the goal Gulab Watumull, a young engineering graduate, brought with him when he left India and arrived in Honolulu in 1948. He put aside his desire for further education, instead working alongside his father to manage the first Watumull's retail shop in downtown Honolulu on Fort Street. The store initially sold family apparel, souvenirs and treasures from India. By 1956 he became General Manager and Executive Vice President of Watumull Bros. and manager of the Royal Hawaiian Manufacturing Company, where the first matching family aloha wear was created. It wasn't long before this fashion trend turned the business into a chain of 30 retail stores, thus making Watumull's an indelible part of Hawaii history.

In his long career, Gulab served on innumerable boards and countless charitable causes including the Bishop Museum, Hawaii Community Foundation, Board of Regents and Board of Governors at Chaminade University, Friends of the East West Center, Outrigger Duke Kahanamoku Foundation and others. Gulab's philanthropic activities reached across the spectrum of healthcare, education, art, music, sports, environmental conservancy and cultural preservation throughout Hawaii and including charitable endeavors in India.

The third son of Jhamandas Watumull and Radhibai Dharamdas, Gulab was born in Hyderabad, Sindh, India in 1924. Gulab met his future wife Indru Mukhi on the tennis courts in India. When it was time to wed he knew she was the one. After marrying in 1953 in Bombay, India, Gulab brought Indru to Honolulu. Together, they became a formidable team, raising four children, running a successful business and generously supporting Honolulu's community over 67 years of marriage.

In addition to his wife Indru, Gulab is survived by their four children, Jaidev "JD" (Julie), Chitra (Scot) Wright, Vikram (Tanya) and Jyoti "Jojo" He is also blessed by his grandchildren, Jared (Kristin) Watumull, Ashley Watumull, Jenica Wright, Jaron (Jaya) Wright, Anjuli Wright, Kiley, Easton, Pierce and Drew Watumull and Subash Bratton. He also had two great grandchildren, Jade and Jemma Watumull.

Gulab's slim stature, broad smile and pleasant nature contrasted with his sharp business acumen. These characteristics proved to be the traits that led a young Indian to prosper throughout a long and successful life in his beloved community of Honolulu. His unrelenting drive and bold spirit made him one of Hawaii's most influential executives, a prominent philanthropic leader and a champion tennis player. Gulab Watumull fulfilled his guidepost, "Be Useful!" that he carried with him to Hawaii. His legacy continues to inspire his family and the people of Hawaii. His generosity to this island he loved so well, will endure for many decades to come.

In lieu of flowers, contributions may be made to either the Bishop Museum or the Honolulu Museum of Art.

Celebration of Life pending.