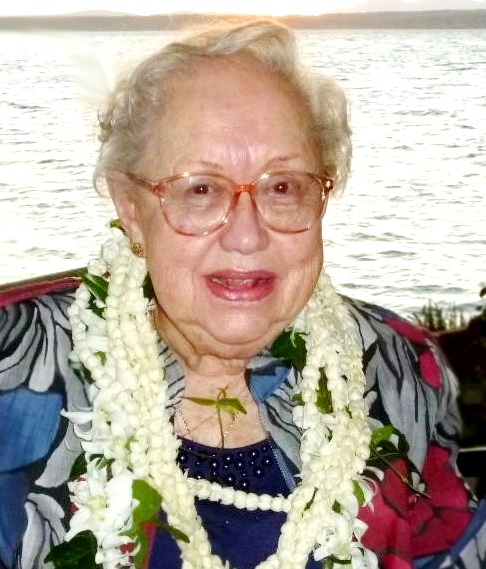 Hawaii has lost another daughter of Hawaii when Violet Lucille Beerman Mitchell passed away on Friday, May 1st, 2020, at the age of 96, after a brief illness.
She was preceded in death by her maternal grandparents Morillo Hazard Perry and Emily Kaneikoliakawahineikaiukapuomua Kekuewa Perry of Kohala; paternal grandparents Friedrich "Henry" Beerman Sr. and Louise Mars Eilers; parents Otto Maxwell Beerman and Violet Kaleilanionamoku Perry Beerman of Honolulu; husband James Carl Mitchell; son Bruce Montague Mitchell; and granddaughter Melissa E. Mitchell.
She is survived by daughters Janice (Ross) Kelly of Arkansas and Norma (Tom) Tracy of Washington state; son Norman (Sheila) Mitchell of Kauai; grandchildren James (Dalisa) Mitchell, Kyle (Kristi) Kelly, Cheryl (Aaron) Aasen, and Brent (Margaret) Tracy; 5 great-grandchildren, and numerous nieces and nephews.
Known as "Lucille" by her family and friends, she was born on October 27th, 1923 in Honolulu, Territory of Hawaii. She graduated from Roosevelt High School and worked at First Hawaiian Bank in Honolulu. After marrying the love of her life, James (also a Roosevelt graduate) in 1946, they devoted their time to raising four children. Having moved on from First Hawaiian Bank, Lucille utilized her accounting skills at Beerman's Grove School in Kailua, Oahu. While in Hawaii, she was active in Central Union Church, Daughters of Hawaii and Outrigger Canoe Club.
She and her husband retired to Steamboat Springs, Colorado in 1983 where she enjoyed a life that was rich with loving family and many, many friends.
Words cannot describe how special Lucille was. Truly loved by everyone who met her, she was a loving wife, mother, grandmother, mother in law and friend to many.
She will be deeply missed by all.