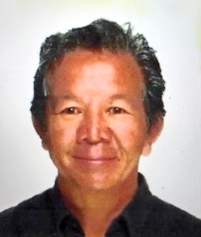 John James Robello Silva, who was called "J.J." by many, died in Honolulu, Hawaii on February 25, 2020. John had been ill for much of his life, but he had overcome a grim prognosis of bladder cancer in 1988 and had lived as normal a life as his illness would allow. He was a survivor for over three decades after his diagnosis.
He was born in Honolulu on March 27, 1946 to his parents Louis Robello Sr. and Katherine Kam Tau Au Silva. In his youth, he lived in Kuliouou Valley in East Honolulu near the Waialae Nui Farm Dairy located in the back of the valley. He became the hanai child of Thomas K. Kaulukukui Sr. and Felice Kaulukukui and their family, who were neighbors. Together with the some of the other Kaulukukui children, John hiked and hunted in the forests near his home, and swam and fished in nearby Maunalua Bay and Hanauma Bay.
John's family later moved to Wahiawa. He graduated from Leilehua High School in the class of 1964. After his graduation, John enlisted in the U.S. Navy. During the Vietnam War, he served on various ships, including vessels stationed in the Philippine Island and offshore of South Vietnam. He was honorably discharged and was decorated for his service. As a Vietnam War veteran, he regularly attended the Christmas Eve candlelight service at midnight at the Hawaii Vietnam Veterans Memorial in downtown Honolulu.
After his military service, John attended the University of Hawaii, during which time he lived with the Kaulukukui family in Kuliouou. He graduated from the University of Hawaii with a Bachelor of Science Degree in the fields of geology and geophysics. He taught for a period of time in the Hawaii public schools. He especially enjoyed judging student projects in the Science Fair.
In the 1970s, John began employment as a federal employee at the Pearl Harbor Naval Base. He worked as a pipefitter, repairing ships and submarines. He received many awards and commendations from his superiors and others for the excellent quality of his work. He retired after forty years of combined military and employment service for the U.S. government.
John was private man, who preferred a quiet and often solitary lifestyle, with a few close friends. He liked to race fast cars, which he did at the racetrack and occasionally on the public highways. He enjoyed tinkering with automobiles, and he kept his beloved Chevrolet El Camino for many years, through engine swaps and several hundred thousand miles of wear and tear. He loved "golden oldies" music, especially rock-and-roll music of the 1950's and 1960's, and in particular the smooth sounds of Roy Orbison.
He liked to travel and he did so, both to foreign and domestic destinations. He often went to Alaska to fish for salmon, after which he returned home to share his catch with friends. Fishing was one of his most favorite hobbies. It was an activity that he began early in his life and which he enjoyed all of his life. The quiet act of fishing seemed to provide him a form of meditation that provided him with calm serenity. Thus, he loved fishing more than he loved catching fish.
John lived alone in his apartment in the Salt Lake area of Honolulu. But he often spent holidays and vacations with his hanai Kaulukukui family, usually showing up with his famous pumpkin crunch desert that he baked himself. He was a generous man, often giving gifts to the younger members of his hanai family, and bestowing unexpected gifts upon others. One of his quirks was that he would appear at a family gathering, stay awhile, and then quietly slip out the door and leave without saying goodbye. It was simply his way of avoiding fanfare and long farewells.
John "J.J." Silva died the same way, slipping away quietly without anyone else present. He is survived by his hanai members of the Kaulukukui family, two of his own brothers, and a few close friends who mattered to him. At his request, there will be no funeral or memorial services. His ashes have been spread on Oahu, as he wanted.