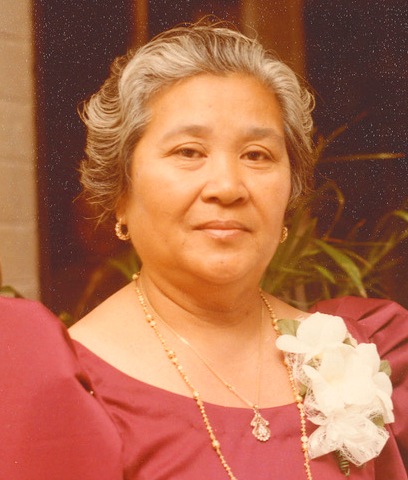 88, of Mililani, Hawaii, formerly of Waialua, passed away on May 30, 2020 at home. She was the eldest daughter and second of seven children born to Evaristo Rasos Calaro and Emiliana Calantoc Calicalin Calaro of Sarrat, Ilocos Norte, Philippines.
She retired in 1996 after 22 years at Del Monte Fresh Produce (Hawaii) Inc. in Kunia.
Preceded in death by husband Proceso Alcon Sabido, her parents and brother Cirilo Calaro. She is survived by sons: Daniel (Deanna), Mario (Teresa) and Rogelio (Dorie); grandchildren: Savannah, Sheena (Dyllan), Mario-Joshua, Michael, Rachel and Ross; great grandchildren: Damian, Preston, Raiden, Ben, Keilana and Tiare; sisters: Rufina (Teodorico) Calaro, Encarnacion Garcia, Estelita Pablo, Rosita (Cristino) Calaro; brother, Santos (Cesarea) Calaro; sister-in-law Fidela Calaro; numerous cousins, nieces, nephews, grandnieces and grandnephews.
Visitation: 6:00 p.m. - 8:00 p.m. on Friday, July 10, 2020 at the Waialua United Church of Christ.
**A maximum of 50 people in the chapel may be in attendance at one time, those in attendance will be asked to follow social distancing guidelines and are required to wear a face covering.
Private Services: 9:30 a.m. Saturday, July 11, 2020 at Mililani Memorial Park's Makai Chapel. Burial: 11:00 a.m.
**A maximum of 100 people may be in attendance at this time, social distancing guidelines remain and wearing of face covering is required.
The services will be live streamed on the "Rogelio C Sabido" and "Jo Cien" Facebook pages.