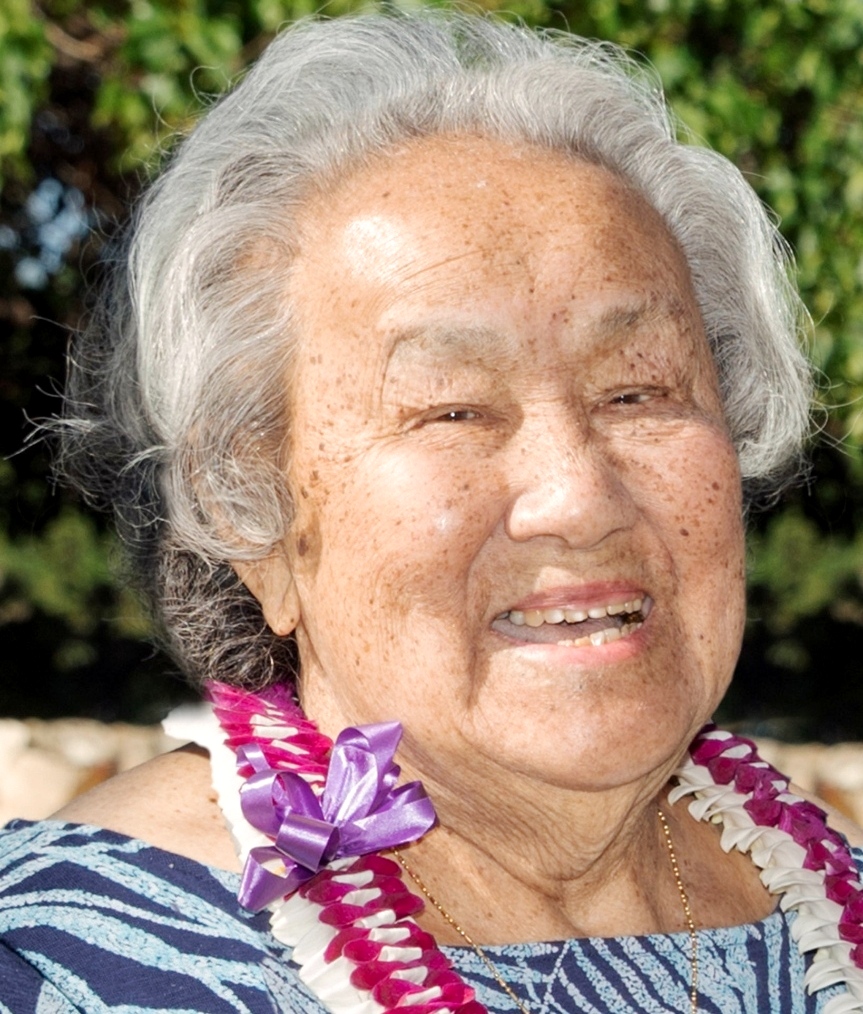 Leatrice Nyun Sunn Chun Williams, 85, of Kailua, Hawaii, passed away peacefully on March 24, 2020, with her children at her side. Born on August 24, 1934 in Honolulu, Hawaii, she was the elder child of William Jiu Wo and Frances Wong Chun. Leatrice was raised in the Chinese camp on Vineyard Street, next to Kauluwela Elementary, presently the intersection of Vineyard Boulevard and Aala Street.

A true "Daughter of the Priory," Leatrice attended St. Andrews Priory all the way through high school and continued to be an avid supporter of The Priory throughout her life and always held fellow Priory Alumnae in the highest regard. A graduate of St. Andrew's Priory, Class of 1952, Leatrice based her life around the school's motto, "Kulia i ka nu`u" (Strive for the highest).

In 1955, Leatrice married Mohala Kenneth "Buddy" Williams and eventually gave birth to 3 children: Lee Ann "Annie" in 1955, Kenneth in 1959, and Lorelei "Nono" in 1960. She continued living at Vineyard Street before moving mauka to Puowaina (Punchbowl) in 1959. In 1967, she moved her family to Kailua where she resided for the rest of her life. She always had great aloha and pride for Kailua.

Leatrice was the premier driving instructor on Oahu for over 50 years. Building her driving school from the ground up, she was one of the first female driving instructors in Hawaii and taught over 15,000 students in her career. Her legacy extends across multiple generations of Hawaii families as she left an indelible mark on driving safety and etiquette across the islands. She shaped Hawaii in her own way, one student at a time.

It was impossible to go out with her and not have at least a couple of past students come up and say, "Hi Mrs. Williams, remember me? You taught me how to drive." She remembered everyone; if she did not recall their name, she recalled the street and the house they lived.

Leatrice wanted everyone who knew her to know how much she loved them. She deeply cherished the connections she made with others - making dear friends out of complete strangers. Her capacity to love and care for others was boundless, and any friend she made was a friend for life.

Leatrice was her usual bright and funny self until the end. She expressed that she had done all she wished to do in life, and was, without doubt, ready to call it a life well-lived.

Leatrice worked hard throughout her life to provide for her family, but also enjoyed the fruits of her labor later in life. She was a frequent traveler - especially to the bright lights of Vegas - and always enjoyed great company and fine foods.

Leatrice was survived by her 3 children - Lee Ann (William), Kenneth (Jona), and Lorelei; brother - Richard; 5 grandchildren - Kahele, Melissa, Hogan, Carmen, and Kalehua; and 1 great-grandchild - Makoto. She is predeceased by her husband, Mohala Kenneth "Buddy" Williams.

Leatrice's second great-grandchild, Mahina Akari Nyun Sunn was born on June 3, 2020, and was given her Chinese name to honor her life.

A private service was held for Leatrice in April. She was laid to rest alongside her husband, Buddy, at Oahu Cemetery in Nuuanu.

A memorial website was created to celebrate the memory of Leatrice. We encourage everyone who knew Leatrice to share their stories, photo, reflections, and condolences at forevermissed.com/leatricewilliams.

Donations are greatly appreciated and will go to an educational fund for Leatrice's great-grandchildren. Please send checks to Ken Williams, 391 Auwinala Road, Kailua, HI 96734. You can also send by Paypal or Venmo to InMemoryofLeatrice@gmail.com. Please be sure to include your name, message, and contact info.

Leatrice's wisdom, humor, love, support and, most of all, her jovial and hearty laugh will be missed. She will forever be in our hearts and souls.

We Love You. A Hui Hou.