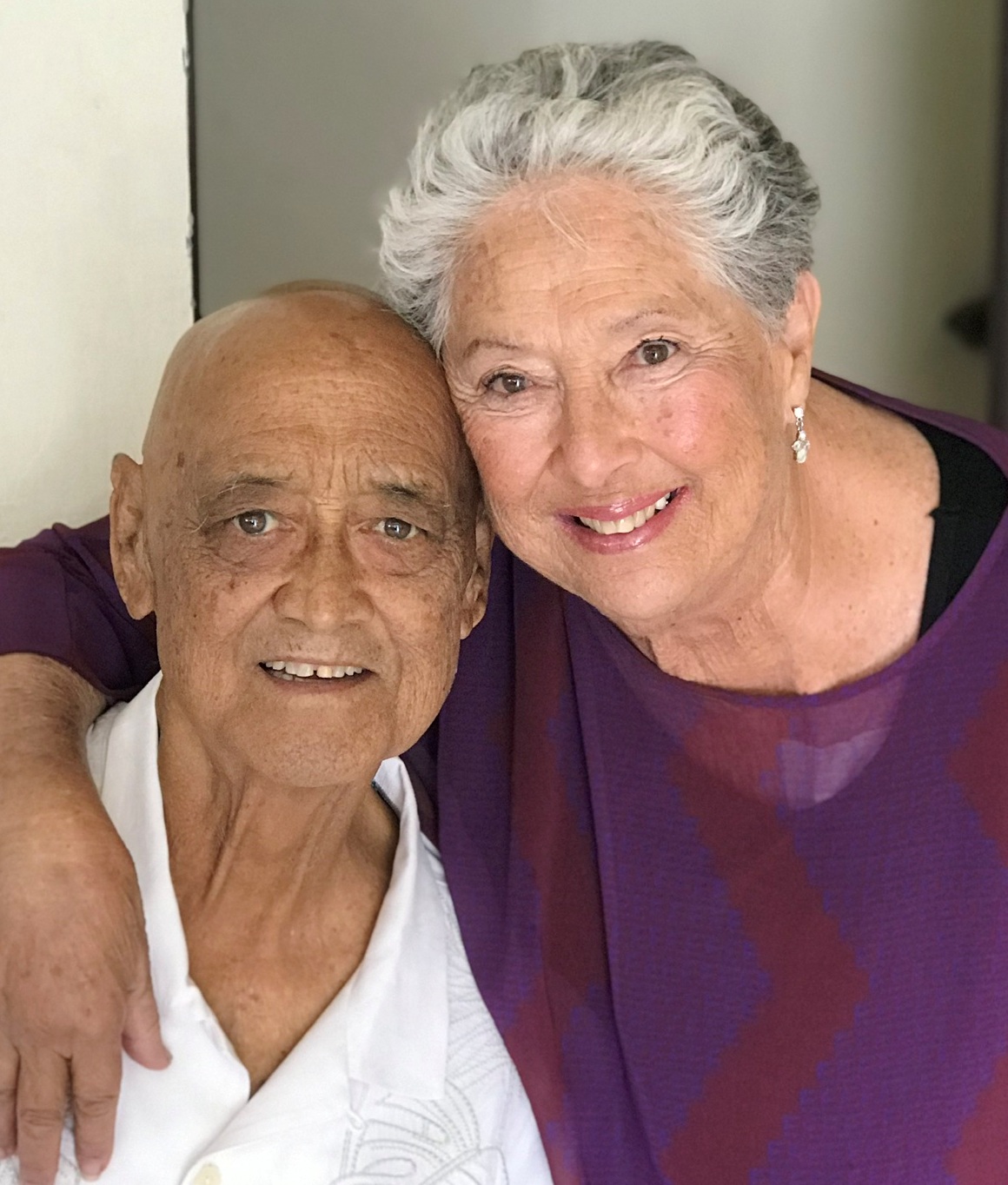 Angels peacefully took one of their own, Stephanie Lilinoe "Noe" Kimi-Buchanan, from her home in Waimea, Hawaii on June 16, 2020 after a lengthy struggle with a diabetes related kidney disease. Her sister, Patti, and nephew, Charles, were at her side when she took her last breath. Noe was 74 years old.
Noe was born in Wailuku, Maui, but lived in Hilo until she moved to Honolulu to attend the Kamehameha Schools. She thrived in Kamehameha's Music Department and that led her to the prestigious University of Indiana to study music. She sang with the famed "Indiana Singing Hoosiers" and toured the United States for a few years with this notable group. She soon found herself singing with the renowned Mitch Miller and singing back up for Perry Como and other popular stars.
After her college studies, Noe moved to Los Angeles to work but within a year, she longed to return home. She spent the next 10 years as the Director of Sales in her family's business, the Seaside Hotels. Noe then met the love of her life, Alika Buchanan. Alika and Noe purchased the Inn at Sibley Pond and ventured off to Maine to operate the inn for 7 years. Again, Noe longed for home and the Buchanans moved back to Hawaii.
Noe always had music deep within her heart and when she returned home, she pursued her passion. This time, it would be Hawaiian music. She found herself as a singer and rhythm guitarist with Kawika Trask's trio then with Kekua Fernandes' group. Many would fall in love with Noe's sultry alto with her recording of "A Million Moons Over Hawaii". Noe enjoyed promotional performances for Hawaiian Airlines. Noe had a thirst to delve deeper into Hawaiian music and found herself with Kimo and Joe Keaulana. Together they toured all the islands to learn and perform Hawaiian music and formed "Lei Hulu". They debuted a recording, "Lei Hulu Sings for the Hula" that remains a classic. If this wasn't enough, Noe's creative spirit found its expression in her business, "Countryside Basket", creating gift baskets and hats.
Noe and Alika longed for a change in life. They discovered that on the Big Island. She found herself among musicians, notably the Brown 'ohana and played music in the hotels. When it was Merry Monarch time, she not only played and arranged the music for Halau Hula O'Kahikilaulani, she also sold her hats. Thousands knew her as the "Hat Lady". Music, though, was always her constant companion and passion. People sought her out and she graciously and joyously welcomed them to her Waimea ranch to teach them. She and her devoted husband have hosted hundreds of hula and music enthusiasts with her Hawaiian Hospitality.
A dark cloud in Noe's life would hover over her in June 2019 when the love of her life, Alika, passed away. This was a huge loss that Noe could never fathom or reconcile. We can find comfort in knowing that the both of them are now together in the presence of God.
Noe is survived by her loving family: children, Trisha Ting and David "Kawika" Ting; siblings: Alan (Suzie), Patti (Harry), Don (Tami), Kim (Mike), Philip (Veronica) and her beloved "nana" Kathy Kimi. Noe's parents, Richard Kimi and Charlotte Marciel Kimi, have already passed.
Her family would like to thank the Liberty Dialysis Center in Waimea, her special caregiver Daida Akau, and her housekeeper and companion, Michelle Tomas Dahl, for their kindness towards Noe especially in her last year and during this pandemic.
Due to the COVID–19 situation, our family will hold a private service. When conditions permit, a Celebration of Life will be announced.