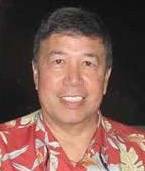 Our beloved Husband, Father, and Papa passed peacefully on June 11, 2020 at age 79. He was born and raised in Honolulu and attended 'Iolani School and UH Manoa. Early in his career, he served as a Hawai'i State Senator and House Representative. After his career in politics, Lum built and headed his own insurance agency, Pioneer Pacific Financial Services, for over 39 years.
Tennyson is survived by his wife, Patricia Lum; 9 children, 22 grandchildren, and 1 great grandchild.
Join us as we Celebrate his Life on Friday, July 17, 2020 at Borthwick Mortuary. Visitation: 9:00 a.m.; Service: 10:00 a.m. We will be accepting love and support thru social distancing. Face masks are required.