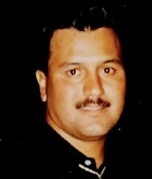 58, of Honolulu, Hawaii, passed away on June 19, 2020. He was born in Honolulu and graduated from Damien Memorial High School. He retired as a Corrections Officer at OCCC after 26 years of service.
Damien is survived by his son Joshua (Brenda); two grandchildren, Aubrey and Colton; his mother Rachel; brothers, Vance and Troy (Monica); and nieces Ashley and Chantel.

Visitation for family and friends will be held at
Hawaiian Memorial Park & Mortuary
Thursday, July 23, 2020 from 10:30 a.m. to 12:00 p.m.