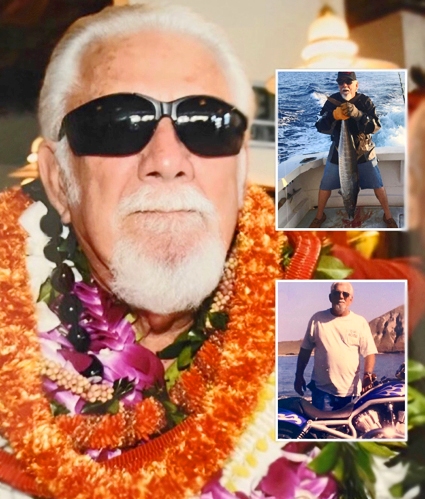 Our dear husband, father, grandpa, and great-grandpa, Bobby Driver passed peacefully in the loving arms of his wife at home in Las Vegas, NV on March 21, 2020. Born October 24, 1942 in Honolulu, HI, Bobby was raised in Kailua and is a proud graduate of Kailua High School, Class of 1961.

Bobby retired from Matson Terminals Inc. as a Senior Superintendent of the cranes in 2016 after 41 years of service. He enjoyed his job at Matson and sincerely cared about those that he worked with. Prior to joining the Matson family, Bobby's first job was as a Journeyman Welder at Island Steel and Welding in Kailua. He was employed there for 11 years.

Born to Hugh (Northern California) and Paula (Kalihi, HI) Driver, Bobby's maternal grandmother's maiden name is Mary Kalu, from Ka'u, HI. In addition to his parents, Bobby was predeceased by brothers Ted (Redding, CA) and Hugh (Portland, OR) Driver.

Our dear father was an avid Harley-Davidson rider. He loved hitting the road with Dennis Freitas and the riders of Na Kane O Ka Lio Hao. Bobby loved to take motorcycles and cars apart and put them back together again. He also loved classic cars and drove stock cars with Larry Carvalho in the early 1970's. More than his love for all of that, Bobby truly loved and looked forward to deep sea fishing with his dear friend Jeff Heintz who owns the Linda Sue II in Kona, HI.

Bobby is survived by his beloved wife Cynthia (Cissy Ka'uhane), daughters Kanani Moon (John), Haleaka Kubo (Drake), Lilia Driver, and Kaiona Anduha. He is also survived by grandchildren Lopaka, Keli'i (Rissa), and Dallas Maikui, Taylor Morris, Ka'enanani Halemanu, Ashlyn, Bobbi, Austen, and Bubu Anduha and great-grandchildren Ka'aiali'i Fraser, Ku'ualoha Jacobs, Kalau and Kala'iku Maikui, and mother-in-law Kalau Nu'uhiwa. Bobby is also survived by countless nieces, nephews, cousins, and friends.

A memorial and celebration of life is scheduled for March 21, 2021. Venue and details to be announced at a later date.