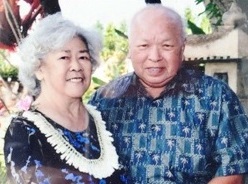 Jane Sakuko Fujimoto Pang of Pearl City, died on April 10, 2020, at age 87. She was born on September 14, 1932, in Maunaloa, Molokai, Hawaii. As the wife of Herbert S.M. Pang, Honorary "Mayor of Pearlridge Mall," Jane was the "First Lady of Pearlridge Mall."
Jane is survived by husband Herbert; sons Sherwin, Steven and Scott, and daughter Susan (Mike) Carreiro; 5 grandchildren and 2 great-grandchildren. Jane is pre-deceased by her brothers, Masao and Masatoshi, and sister Helene Yamamoto.
After spending her early years on her parents' Molokai farm, Jane came to Honolulu in her high school years because she had health issues that required care found only in Honolulu. She stayed with family friends and attended and graduated from Kaimuki High School in 1951. Along the way, she did household chores to earn her keep, then worked at Foodland where she met Herbert, and later at Woolworth's. After marriage in 1956, she stayed home to raise her children in Kaneohe and later Pearl City, then returned to work at Cornet Waipahu and finally at Zippy's Waiau. Altogether, Herbert and Jane have spent 69 years together through thick and thin.
Because of the current pandemic situation where a full service may not be allowed for several months, husband Herbert has decided to forego a full service. He wishes to thank the Fujimoto and Pang 'Ohana, their Pearl City neighborhood friends of over 50 years, the Pearlridge Mall business associates, the Pearl City Medical Association Room 500 staff, and all their senior kupuna friends. Thank you all for your well wishes, sympathy and condolences and for your love and support during this time. Herbert wishes everyone to stay safe and healthy and not get sick.
If you would like to send a card or letter of condolence, please send it to Herbert at: 91-1161 Keoneula Boulevard, Q5, Ewa Beach, Hawaii 96706. Please note that this is a secure mailbox and not his home address.