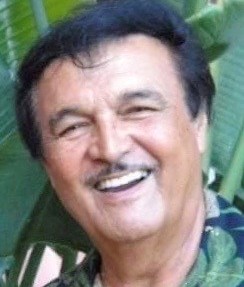 Bobby King passed away in ICU on August 2 after heroically battling throat cancer for over a year, including four months of a brutal 2020 lockdown in a California Rehabilitation Center.
Bobby was born on Oahu and raised by his mother, Sinatala Tulau King, a transplant from Manu'a American Samoa. Bobby spent most of his life on Oahu.
He graduated from Farrington High School, Class of 1960, briefly attended college in Washington State on a football scholarship, returned home after an injury, followed by a draft into the Army. A self-taught funky bass player, gifted vocalist, good humored "Master of Ceremonies", and "best all around guy", music was his life's passion.
Adored by many, he traveled widely, spreading musical aloha joining several Hawaiian Musical Legends: the Raven Brothers, Dick Jensen, The Alii's, backing Don Ho then later as a dynamic musical group (Awarded a Na Hoku Lifetime Achievement in 2012), and later fronted Sea Breeze, part of Les'lie Productions. Late in life, he picked up a day job at Jams World/Surfline Hawaii, gaining a brand new fan base of customers.
After surviving a heart attack in 2013 and his first triumphant bout with throat cancer in 2014, Bobby "retired" to California in 2015 to live with his loving family and mainland friends but still "picked up a gig" occasionally, including the 2017 Aliis Reunion Concert, and when visiting his Oahu home! A true classic gentleman, he shared his heart, aloha, and golden voice as gifts to all he knew and loved, passing down his talents to fellow musicians and his grandchildren.
Tofa, Bobby, you are deeply missed and eternally loved by your family on the Mainland, your Ohana in the Islands, and your sister- and brotherhood of musicians.

Services to be held on Oahu at a future date, tentatively on one year anniversary of passing, due to current Covid restrictions.