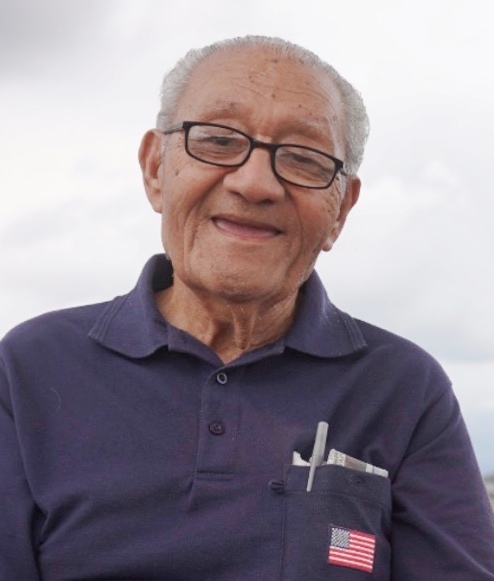 On Friday, August 14, 2020, Ani'Pati "Pati" Faaesea Mailo, loving husband, father, grandfather, great-grandfather, and brother peacefully passed away at the age of 87 at his home with his loving family by his side.
Pati was born on November 9, 1932, in Fagatogo, American Samoa to Poloie and Eseese Mailo. He attended Marist Brother's Boys School in American Samoa and St. Joseph College in Western Samoa. Upon graduating, Pati enlisted in the United States Army, where he proudly served 21 years of active service and retired as a Master Sergeant.
Upon retirement from the United States Army, Pati ventured into a new career with the State of Hawaii where he would fully retire after 20 years. During his retirement, Pati and his wife, Cathy, diligently served the Fraternal Order of Eagles 140 Honolulu Aerie in Honolulu, Hawaii, participating in various community charitable events. His hobbies included fishing, bowling, and golfing.
Pati is survived by his son Matthew (Mamie) Mailo, and daughter Nellanette (Hanalei) Nunies; grandchildren: Jonathan, Jason, and Andrea Mailo; Herschel and Natasha Nunies; great-grandchildren: Alexis, Zayvion, Hayven, Hezekiah, Treyden, Kyzin, Anson, Caelyn, Payton, Mateese, and Israel; step-children: April Moniz, Irene Duque, George Torres, Daniel Torres and Leimomi Torres; brother John Mailo. He is preceded in death by his wife Cathy Mailo; daughter Maryann Mailo; siblings: Taai, Tiliga, Talaia, Vii, Faamafu, Leavasa, Ana, Anipati I, Faivale, Vili, Sefo, Talanoa and Faaesea Mailo; and step-children: Charles Wineland, Jeannie Terminello, Richard Torres, Ronald Torres, and Nathan Torres.
Due to the COVID-19 pandemic and recent government restrictions to reduce large gatherings, the family has decided to hold a private ceremony for immediate family members to honor and Celebrate the Life of Pati Mailo. The family respectfully asks for your continued prayers, support and understanding.

Well wishes and sympathy cards may be sent to:
831 Ala Lilikoi Street #3, Honolulu, HI 96818.