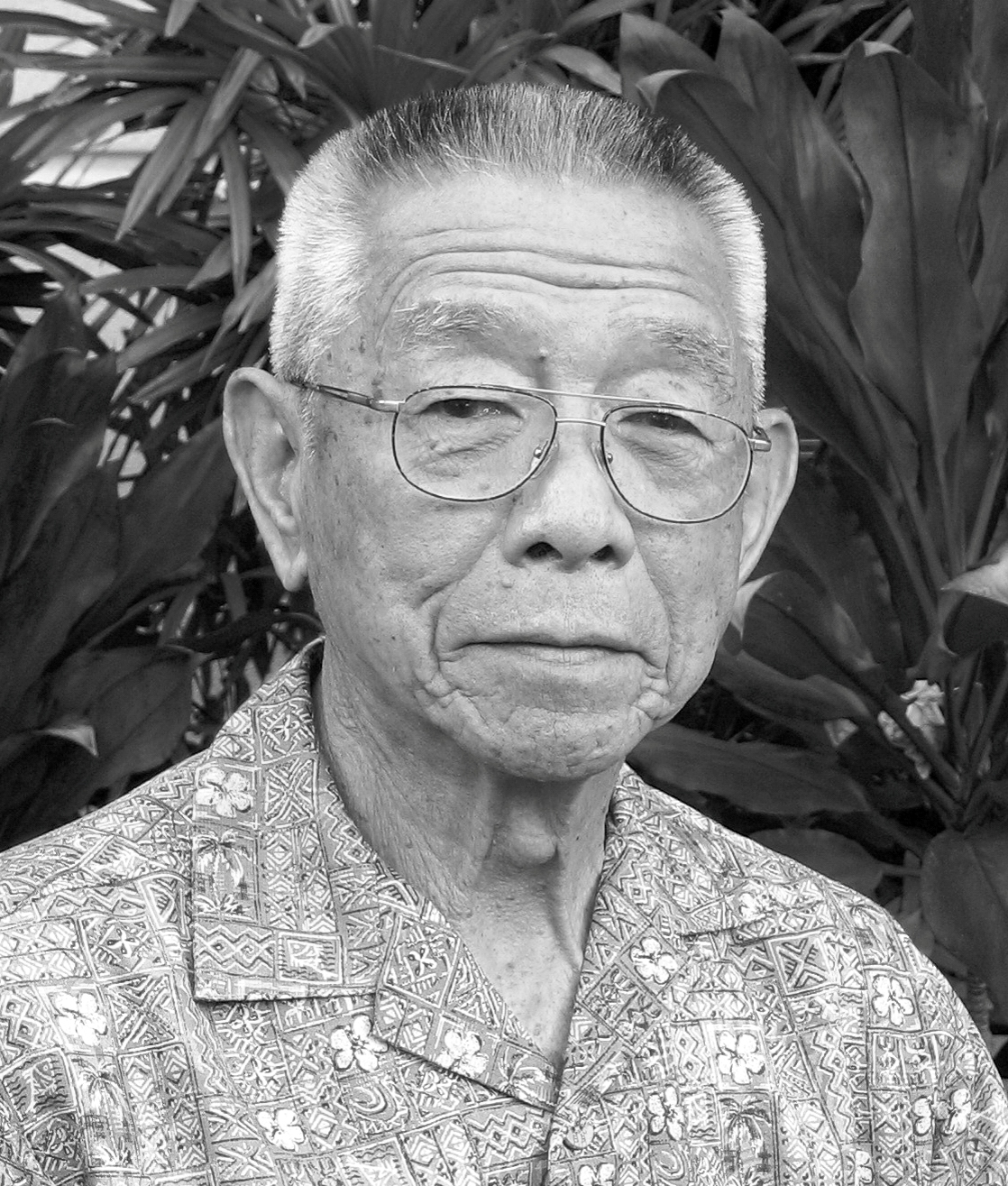 Dr. Fujio Matsuda died on Sunday, August 23, 2020 in Honolulu at the age of 95, with his wife of 71 years and his six children at his side. Fujio was beloved by his community and respected by the leaders he worked with to shape the Hawai'i we know today.
His parents, Yoshio and Shimo Matsuda, emigrated to Hawai'i from Yamaguchi Prefecture in Japan over 100 years ago to work on Kaua'i and Hawai'i Island sugar plantations. They later met, married, and settled down in old Kaka'ako. Fujio was the third of four children. He remained proud of his Kaka'ako roots his entire life. The family's Matsuda Saimin Stand on Cooke Street attracted people from all walks of life from the 1930s to the 1950s.
During these early years, Fujio's parents taught him to live according to traditional Japanese values such as "shojiki" (sincerity, honesty); "gambare" (to persevere); "nasake" (empathy for those in challenging situations), "kansha" (gratitude), "doryoku" (hard work), and many others. Those who knew him well will recognize the expression of these values in everything he did.
Dr. Matsuda's educational journey began in the multi-ethnic classrooms at Pohukaina Elementary School. After Washington Intermediate, he graduated from McKinley High School, Class of 1942. It was there that he met his future life partner, Amy Saiki. The attack on Pearl Harbor happened in the middle of his senior year. The next year, Matsuda interrupted his undergraduate studies at the University of Hawai'i to enlist in the 442nd Regimental Combat Team of the U.S. Army. Eventually, he was specially assigned to the 291st Field Artillery Observation Battalion and was shipped to France and northern Germany. Staff Sargent Matsuda thankfully completed his tour of duty and was awarded the Bronze Star.
Fujio's time in the war solidified core values about human relationships that guided his entire adult life. As the only non-Caucasian soldier in the 291st battalion, he often said that he never experienced any discrimination. To the contrary, he developed deep and lasting friendships. Among these friends, his childhood nickname "Fuj" became "Fudge". He especially valued his friendship with the battalion commander D. Bailey Merrill from Evansville, Indiana, who eventually became a United States Congressman. To honor this friendship, Matsuda named his oldest son Bailey.
After the war, Fujio earned a Bachelor of Science degree in Civil Engineering from Rose Polytechnic Institute in Terre Haute, Indiana under the GI Bill. He returned home to Honolulu and married Amy in June 1949. Soon afterward, they moved to Cambridge, Massachusetts, where Fujio earned a Doctor of Science degree in Structural Engineering from the Massachusetts Institute of Technology in 1952 and continued as a research engineer until 1954. While in Cambridge, the young couple had the first 3 of 6 children; Bailey, Thomas, and Sherry. After a two-year research position at the University of Illinois, the family finally returned home to Honolulu in late 1955. From 1956 to 1962, through Hawaii's transition to statehood, Fujio co-founded the civil engineering firm SMS Engineers and became a professor of Civil Engineering at the University of Hawai'i, eventually serving as Department Chairman.
In 1962, Governor John A. Burns asked Dr. Matsuda, at age 38, to serve as the Director of the State Department of Transportation. During his 10 years of service in that position, he directed a large expansion of state highways, airports, and harbors during a period of rapid growth. Meanwhile, by 1964 Fudge and Amy had three more children, Joan, Ann, and Richard. The growing family's home in Nu'uanu was very lively, with Amy somehow keeping everyone healthy and on track in school, sewing outfits, baking oatmeal cookies, and bandaging scraped knees. Fudge would always say that his career in public service would not have been possible without Amy.
Dr. Matsuda moved on to become a Vice-President (in 1973) and then President of the University of Hawai'i in 1974, at age 49. The family moved from Nu'uanu to College Hill in Manoa. By the time Dr. Matsuda left UH in 1984 and became Executive Director of the Research Corporation of the University of Hawai'i (RCUH), the children had moved on to college, careers, and families of their own, some in Hawai'i and some on the mainland. Fudge and Amy's first grandchildren were born in 1985. Grandpa Fudge started to perfect his pancake breakfast skills for his grandchildren and adopted the last and most favorite of his dogs, Koa the charming rascal dachshund. Throughout the later stages of his career, Fudge and Amy were kind and generous mentors to their grandchildren, passing on their values and life lessons to build the next generation. By the time their grandchildren were going on to higher education and starting families of their own, Grandpa Fudge could see that his dream of passing down core humanitarian values to future generations was being fulfilled.
Dr. Fujio Matsuda was preceded in death by his father Yoshio Matsuda, his mother Shimo (Iwasaki) Matsuda, and his beloved sisters Janet Matsuda, Betty Matsuda, and Nancy Matsunaga.
He is survived by his wife, Amy (Saiki); his children Bailey (Anne Marie), Thomas (Sheila), Sherry (Andrew) Bumatai, Joan (Charles) Brotman, Ann (Ross) Sueoka, and Richard (Leslie); 14 grandchildren and 7 great-grandchildren.

The family plans to do a public memorial gathering in the future when it is safe to do so.
In lieu of gifts or flowers, please consider donating to the Fujio and Amy Matsuda Scholarship Fund
at the University of Hawai'i Foundation, P.O. Box 11270, Honolulu, HI 96828-0270
or online at www.uhfoundation.org/MatsudaScholarship.