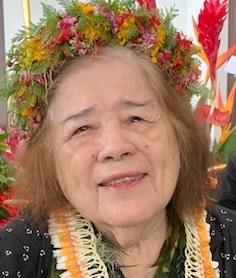 Our family is profoundly saddened to announce the passing of our beloved Mother, Lina Sato, age 91, also known as "Nana" by those who adored her. She was born on February 20, 1929 and passed peacefully at home on August 20, 2020. Nana was truly loved and lived everyday for those around her, generously gifting patchwork quilts to family, friends, and aquaintances near and far. Her quilts were a labor of love and will be an enduring legacy for those lucky enough to have known "Nana".
She is survived by Son, Robert Jordan (Mary Jo) Sato and Daughter, Lisa (David) Ching; Grandchildren: Brandy Sato, Mandy Stewart, Dara (Todd) Tudor, Ronson (Asia) Honeychurch, Sasha (Jason) Mahuna, and Landon (Dana) Honeychurch and Ryan Watanabe; Great Grandchildren: Taryn Watanabe, Lukas, Isaac, and Liana Tudor, Paisley Mahuna, and Logan Honeychurch; Siblings, Margaret Nicol and Robert Young. Grand Doggies: Aspen, Monroe, Harley, Denali, Peanut, Opihi, Sugar, Wilbur and Duke

Nana loved us with all her heart, and we will miss her dearly!!