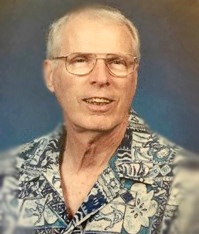 On Sunday, August 2, 2020, Lenley Hawksworth, passed away peacefully at Arcadia Retirement Community in Honolulu, Hawaii, at the age of 89.

Lenley was born on May 16, 1931 in Honolulu, Hawaii to Lenley and Elizabeth Hawksworth. He grew up on Maunalani Heights with his four younger sisters. He attended Roosevelt High School and the University of Hawaii where he was part of the ROTC. After graduating college, Lenley served as a Lieutenant in the U.S Army where he met his wife Elizabeth Collins, while stationed at Fort Lewis near Tacoma, Washington.

Lenley worked for the YMCA in Hawaii and California, and the County of San Diego for many years. Upon retirement, Lenley moved back to Honolulu where he volunteered at the Arizona Memorial and was an ardent supporter of the Honolulu Symphony and Opera. He kept in touch with his longtime friends and classmates, and loved to "talk story." He enjoyed traveling, especially on trains and for many years went on yearly Roads Scholar excursions.

Lenley was preceded in death by his parents, his wife Elizabeth, and three of his sisters, Janet, Ruth, and Mary. He is survived by his sister Alice, his two children, Jane and Rand, three grandchildren, Alan, Hope, and Eric, and two great grandchildren.

Lenley is part of the Willed Body Program at the University of Hawaii at Manoa where he will become a mentor and a teacher. After he is done teaching, he will be honored in a group memorial service and his ashes will be scattered in the waters of Oahu.

August 2nd was his mother's birthday, so it brings us comfort thinking that maybe she came to him and brought him home.

Aloha, Lenley.