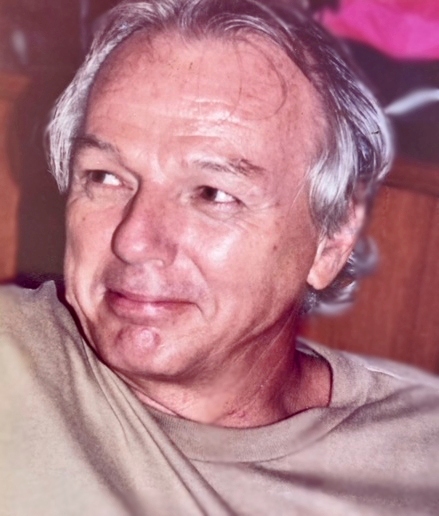 Age 81, died peacefully at his home In Honolulu on May 17, 2020 after a long illness.

Jim was born on February 2, 1939 in Los Angeles. He graduated from Eagle Rock High School where he was a champion gymnast, and has been inducted into the Eagle Rock HS Athletic Hall of Fame.

He enlisted in the United States Army and served as an active duty light infantry radio operator in The 1st Infantry Division, and subsequently as a reservist for several years.

Jim attended Glendale College and was a member of XAE fraternity, before moving to Honolulu to attend the University of Hawaii at Manoa. He studied at the newly-founded East-West Center and graduated with a Bachelor's Degree in Comparative Religions.

After hitchiking around the world, he decided to settle in Honolulu, having found the city to be the very best place on the planet to live his life. He met his wife Nana on a beach and they were married in 1974.

Jim worked for the Dillingham Corporation on a new project to develop and manage the largest open-air mall in America, Ala Moana Center. After many professional accomplishments, he left Dillingham to found his own successful commercial realty company which he owned and operated for decades.

Jim found ways to give his time generously to his community throughout his life. He served for several years as a Director for Goodwill Industries. He was a soccer coach, referee, and commissioner for AYSO during the years his boys played. Jim served multiple years as room parent and PFA volunteer at Punahou School where all three of his boys are 13-year alumni. Scouting was a big part of his life, and he served with distinction as Troop 1 Committee Chairman. Starting in 1999 he worked as a Director for The Friends of the Medical School at the University of Hawaii John A. Burns School of Medicine until 2010, where he was elected treasurer and chaired the nominating committee. He was awarded the James S. Burns Award in 2018 for outstanding dedication to the betterment of the medical school.

Jim believed that intellectual curiosity, good human ethics, and rigorous scientific inquiry were essential components of the better world he imagined and hoped for. He knew that we all have a part to play in making the world a better place. He did his best to play his part, make a difference, and seek out his share of the world's work to do. But he was most of all dedicated to the growth and development of his three sons who remember bicycle rides, beach days, picnics, campouts, football games, editing sessions for school papers, tabletop engineering projects, and deep philosophical discussions that could stretch for hours or days. He was so proud of their academic, athletic, extracurricular, and community accomplishments.

Peripheral neuropathies can be particularly challenging because they slowly rob one's body parts of their neurological function while leaving the brain intact. You are acutely aware of your losses. Even in the face of this type of degenerative disease, cruelly removing abilities from even the most active, dynamic, gymnastic of men, Jim displayed an impressive optimism and a stoic resolve to keep doing his best, as independently as possible, for as long as a man could heroically endeavor.

Jim is survived by his wife of 46 years Ethel "Nana" Fleming; three sons Jason and his wife Olivia, Matthew, and Jonathan; and three grandchildren Jonah, Everett, and Leo; brother and wife Richard Fleming and Georgie Emfield; sister and husband Sandra and Rex Carson; as well as his many cousins, nieces, and nephews, and countless friends, all of whom he loved deeply.

Jim is a participant in the Willed Body Program at the John A. Burns School of Medicine, becoming a teacher to future physicians even in his death. Jim's family would like to thank Kaiser Permanente, Malama Ola, and Attention Plus Care for their expert guidance and support during his illness. A celebration of his life will he held at a later time. Donations in Jim's memory may be made to Aloha Council, Boy Scouts of America at 42 Puiwa Road, Honolulu, HI 96817.