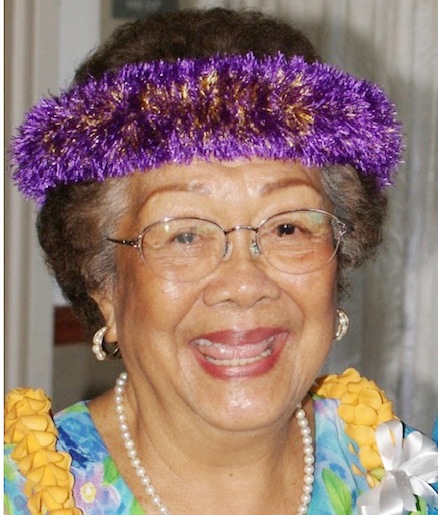 Esther Acierto Ramones was born on March 9, 1923 in Ilocos Norte, Philippines. She was the youngest of four siblings born to Francisco and Angela Ramones. Her family relocated from the Philippines to Kauai to work in the plantation. Esther later joined them, moving to Hanapepe, Kauai – where she married and gave birth to her only son, Andres P. Remigio. A few years later, Esther and Andy moved to Oahu. She eventually opened her own bar, Esther's Lounge, in 1968, near the corner of N. King St. and Gullick Avenue. Known to family as "grandma Esther," she was fun, adventurous, stubborn and mischievous. When she sold Esther's Lounge and "retired" in 1980, grandma Esther turned her attention to activities at the Lanakila Senior Center, often dancing hula and enjoying social events. She also took time to travel extensively within the U.S. and overseas. She regularly attended church at St. Anthony's Kalihi and enjoyed spending time with family and friends. She passed on October 2, 2020, at the age of 97. Grandma Esther had a long life, well-lived, and leaves behind a loving and grateful family.
She is survived by her son, Andres P. Remigio (wife Lorraine), grandchildren CharleLynn, Catherine (Joel Wintjen), Nadine, Dean (Laurie Amai) and Douglas (Elaine Nakagawa). She also has eight great-grandchildren: Brennen, Nathaniel, Keola, Alek, Breana, Rayven, Rachel and Colten; and four great-great-grandchildren: Robert, Abriella, Athena and Ayla.
Funeral services will be held on Monday, November 9, 2020, at Borthwick Mortuary, Maunakea Chapel, from 10:30-11:30 a.m. and can be viewed via live streaming (please see the BorthwickOahu.com website for connection information). The services will be followed with drive-by visitation from 12:00-1:00 p.m. (enter from the Maunakea Street entrance).
Catholic mass will be held on Tuesday, November 10, 2020, at St. Anthony's Kalihi from 10:30-11:15 a.m. Burial to follow at 1:00 p.m. at Hawaiian Memorial Park Cemetery. Family and friends are welcome to attend the drive-by visitation, mass and burial (please wear a mask and socially distance). Lunch to be provided by family on both days.