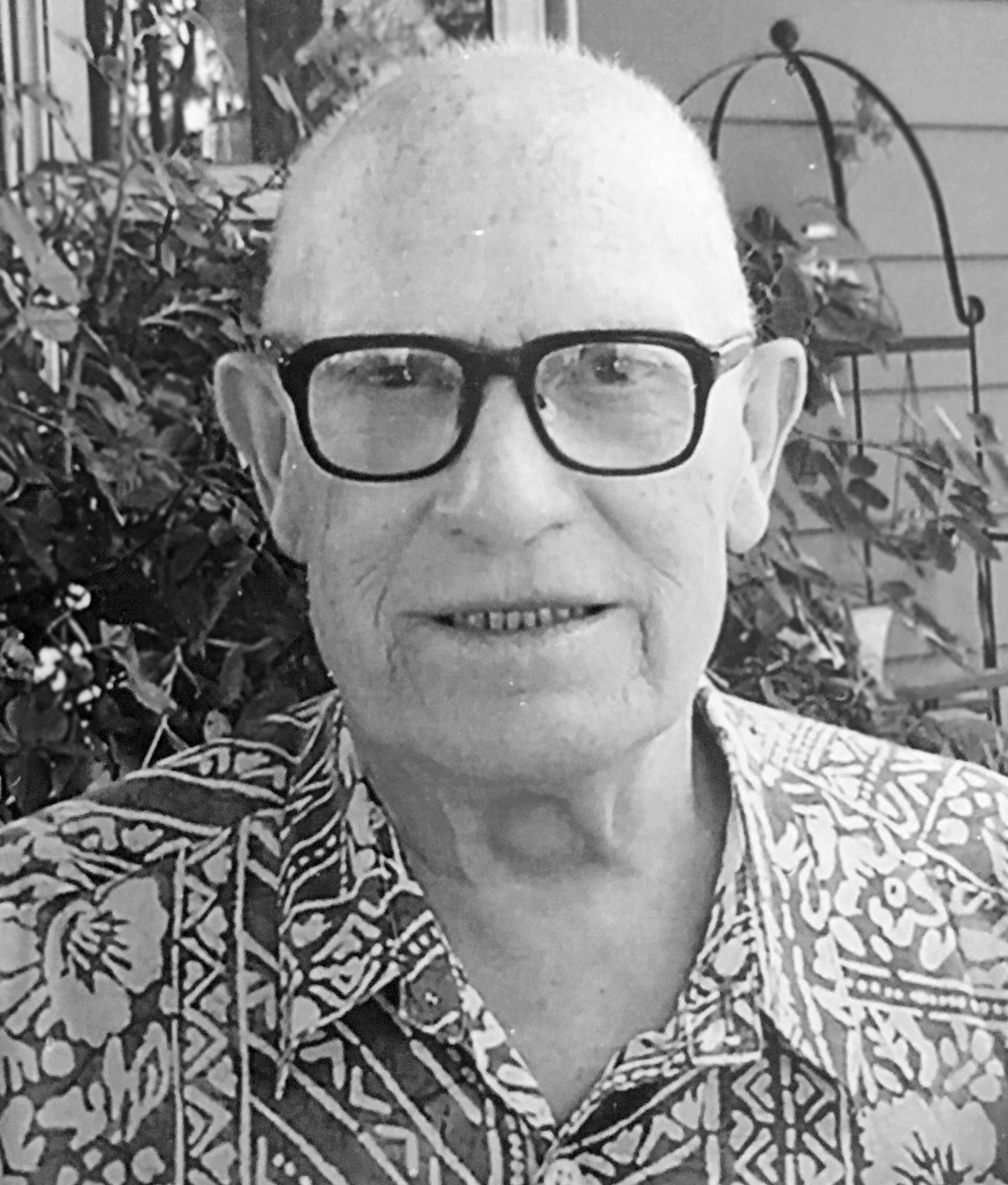 Herschel Hugh Mitchell passed away in Honolulu on October 14, 2020. He was 98 years old.

Born on November 12, 1921 in Roundup, Montana, Hugh was the eldest of three children born to Herschel and Dora Mitchell. The family soon made its way west, moving to Seattle, WA (1925), Oroville, WA (1927) and finally settling in Spokane, WA (1934). Hugh graduated from North Central High School (Spokane) in 1939 and entered the University of Washington (Seattle) in September 1939. He enlisted in the U.S. Navy in the spring of 1942 and entered the Navy Language School at the University of Colorado at Boulder. He graduated from that school in 1943 with the commission of Ensign and flew immediately to Honolulu and was in the Pacific and Japan until February 22, 1946.

After receiving his discharge from the Navy as a full lieutenant, Hugh completed his B.A. degree from the University of Washington in 1946, and in 1947 received his Master of Business Administration degree from Wharton Business School (University of Pennsylvania). In September 1947, Hugh began his banking career with First National City Bank of New York (now CitiBank). As part of the company's International Banking Group, he was assigned to Osaka, Japan; Hong Kong, and Singapore. He then was assigned as manager of branches/offices in Bombay, Calcutta, and Madras, India; Monrovia, Liberia; Nairobi, Kenya; Dakar, Senegal; Manama, Bahrain; Doha, Qatar; and San Francisco, CA.

After retiring from Citibank in 1979, Hugh settled in his favorite locale in the world: Honolulu. In February 1980, he joined American Security Bank (now First Hawaiian Bank) and served several years as vice president and manager of its International Banking Department.

Hugh's keen memory for details was evident from the fact that in only one year he was able to learn more than 3000 Japanese characters and read, write and speak the language. He was always very conscientious and strove for perfection in all that he did.

No matter where his business travels took him, Hugh quickly became part of the local community, sharing his musical talents (playing the piano, singing and directing church choirs) and love of connecting with the people around him. Hugh was an active member of Central Union Church (Honolulu), where he sang in the chancel choir until COVID restrictions curtailed that activity. He also previously served as the congregation's treasurer. Hugh shared his business acumen as treasurer of his condominium board and his musical talents through singing in local community choirs and playing in the chime choir at Arcadia. Hugh thoroughly enjoyed acting as local tour guide for friends and family visiting Oahu, making sure to point out not only beautiful vistas, but adding stories of local history and the people he had known.

Hugh is survived by his nephews Steven Swegle (Milton, WA), Edward Swegle (Ninilchik, AK) and Richard Swegle (Cheney, WA), and his nieces Gay Amonsen (Kent, WA), Janet Ray (Grapeview WA) and Susan Hegstrom (Central Asia) along with many great-nieces and great-nephews. He was preceded in death by his parents and his sisters Elaine Maskenthine and Wanda Zoe Swegle. Hugh also was fortunate to find long-lasting friendships with his network of caring and loving church and choir friends.

Due to the Covid-19 pandemic, Hugh will be privately interred at The National Memorial Cemetery of the Pacific (the "Punchbowl"). A Celebration of Hugh's life will be held at a later date when we are able to gather safely together again.