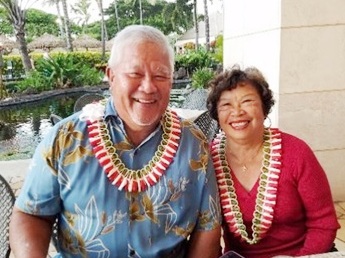 Brought together by God's unconditional love and faith, our parents, Basilio "Roy" and Angeline "Angie" Camello were bonded by the Sacrament of Holy Matrimony on February 27, 1960 at Our Lady of the Mount in Honolulu. Without a doubt, their lives were filled with God's wisdom and teachings to follow His way of life and to pass it down to their children. They were blessed with 4 beautiful children, 8 grandchildren and 9 great-grandchildren.

Born on February 20, 1942 in Waipahu, our dad attended St. Joseph's Catholic School in Waipahu and graduated in 1959 from St. Louis School in Honolulu. He soon entered an apprenticeship program at Pearl Harbor Navy Shipyard and retired after 30+ years as a Nuclear Inspector. Throughout his career working and raising a family, he coached numerous community baseball teams. His passion for baseball expanded to having a long career with Rainbows Umpires Hui umpiring youth, high school, and college baseball and softball. His final game at umpiring was at the 2012 State high school baseball championship game between the Waiakea Warriors and the Baldwin Bears where he was recognized for his outstanding contribution to the game. Dad's other passion was golfing. As an avid golfer, dad always looked forward to his Wednesday and Friday morning standing tee-times with a handful of his friends and his two sons, Calvin and Charles to play a round of golf at Westlock and Makalena Golf Course.

Our mom was born on December 19, 1940 in Honolulu, attended St. Anthony's Catholic School in Kalihi and graduated in 1959 from St. Francis High School in Honolulu. She worked as a secretary at Schofield Barracks then later transferred to Hickam AFB where she worked as a supply assistant supervisor. She also broadened her skills in organizing the supply department of Mid Pacific Airlines until returning to her federal service employment with Hickam AFB and ultimately retiring after 30+ years of service. As a hard-working mother and a "thrill shopper," she also worked part-time at Liberty House and Macy's for over 25 years. Mom could watch Korean dramas for hours. She joined a Hawaii Korean drama fan club and travelled to Korea just to meet all the drama stars. Our mom's morning routine would include a group workout session at the Waipahu YMCA and after a good exercise she enjoyed chatting and socializing with everyone there. Mom also participated in activities at the Waipahu Gym Senior Center.

As a loving couple, they shared their talents with the Waipahu Community being involved with Waipahu JackRabbits, St. Joseph's Filipino Catholic Club, Waipahu Plantation Cultural Park, and the Waipahu Senior Center. The strength of their Christian Catholic Faith was shared at the Resurrection of the Lord and St. Joseph Catholic Church in Waipahu. They both enjoyed watching Korean dramas of which they had luncheons and dinners at friend's homes sharing their favorite K-drama episodes and life in general. They also were very involved with their Alumni Association having annual get-togethers with their classmates for luncheons or a friendly game of golf.

During their retirement years, they travelled frequently on annual cruises around the world with family and friends touring places in Russia, Germany, Korea, Japan, Amsterdam, China, Panama, Mexico, and Caribbean. Having three of their children working in the airline industry, they also traveled at least 2 to 4 times a year to the mainland visiting friends, relatives, and frequent the ninth island to play their favorite card game or slot machine.

Cooking and preparing family meals was what mom and dad did best as they loved when family would gather on special occasions especially during the holidays. They enjoyed sitting in the audience watching their grand and great-grandchildren's sporting events, dance, and musical recitals. They even followed their youngest granddaughter's softball team to tournaments on the mainland.

These past couple of months have been a very difficult time for us as mom and dad were admitted to Kaiser Moanalua with symptoms of Covid-19. Given their risk of age they were challenges ahead for them in getting a full recovery. Many relatives and friends were praying for hope and a miracle that they would pull through but unfortunately on September 11th dad took his last breath on earth. Mom struggled with little signs of recovery as she joined dad on October 18th. Our faith and trust in the Lord gave us peace and comfort in these times of sorrow and grief. Soon mom and dad will be singing His praise in heaven glorifying His name Hosanna in the Highest. Just as they walked together down the aisle to the Lord's Table on their wedding day 60 years ago, with God's grace and mercy they will journey together to the Table of Plenty into God's Heavenly Kingdom.

Given Covid-19 protocols, We will have a family's private viewing and services for dad. He will then be cremated and interned with mom in her casket. A Private family service will be held at Mililani Memorial Park & Mortuary - Makai Chapel for them with a Catholic vigil and funeral service. Mom and Dad brought together by God will be on their journey home together to Our Father in heaven. Their final resting place will be behind the risen Christ statue at Mililani Memorial Park & Mortuary in Waipahu.

Our parents are survived by daughter, Cheryl (Moises) Felipe of Pearl City; Sons, Calvin (Priscilla) Camello of Makakilo, Craig (Pamela) Camello of Kailua Kona, and Charles Camello of Waipahu. 8 grandchildren and 9 great-grandchildren. In addition, dad is survived by his brother Steven (Aileen) Camello of Kapolei and sister Camille Millie Kealoha of Torrance, CA. Mom is survived by sisters, Dolores Smith of Brentwood, CA, Julie Woods of Florence, AL and brother Cosme (Cherylann) Castenieto Jr. of Nevada City, CA.

We express our gratitude and thanks to the medical personnel of Kaiser Moanalua and first responders who took special care of mom and dad. Most of all, we are grateful to all our family, friends, and our faith communities for praying for mom and dad during their ordeal with this virus. Your prayers and thoughtfulness are most comforting as we share the love of God in these times of difficulties.

We love you and we miss you. Until we meet again in God's Heavenly Kingdom, may your souls rest in peace! #CamelloSTRONG

Condolences can be mailed to c/o Calvin Camello, 92-1055 Oka'a St., Apt. 3-106, Kapolei, HI 96707 or c/o Craig Camello, 75-6081 Alii Dr., Apt. V V 103, Kailua Kona, HI 96740.