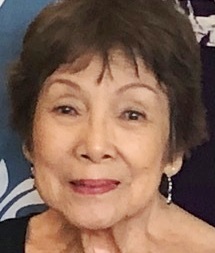 Remedios Balmores Hood of Honolulu, formerly of Waikoloa, Hawaii, passed away peacefully on October 21, 2020 at age 91. She was born on October 3, 1929 in Puunene, Maui.
Remy attended Puunene Elementary on Maui, graduated from Baldwin High School and the University of Hawaii. Remy was a school teacher at St. Anthony's on Wailuku, Maui, a Hawaiian Airlines Stewardess, (she was the first Filipina stewardess for Hawaiian), a sales person for Better Brands, a sales representative for Lufthansa Airlines, and a shoe store owner in Kainalu, Kona, Waimea and Hilo, Hawaii.
Family was very important to her and it was evident by her every day caring and love for them. She loved quilting and made many beautiful and meticulous quilts for her family members and friends. Everyone who knew her will attest to her outgoing personality, wit and friendship which we all will surely miss.
Remy was preceded in death by her husband Milton Hood, her son David, parents Pedro Maisa and Blasa Diniega Balmores; her sisters Maxima (Claro, Sr.) Capili and Avelina Balmores and brothers Jose and Ted Balmores. Remy is survived by brothers: Larry (Perlita) Balmores, Francis (Helen) Balmores and John (Patricia) Balmores; sisters: Mary Balmores, Elizabeth (Clayton) Wong, Mona Lisa (John) Wood and numerous nieces, nephews and cousins.
A Celebration of Life Mass will be held on November 18, 2020 at 9:00 a.m. at St. Philomena Catholic Church, 3300 Ala Laulani Street, Honolulu. Interment will be at 11:00 a.m. at Hawaiian Memorial Park.
The family wishes to thank everyone for their love and support throughout this past year and a special mahalo to her caregivers, Mrs. Nenita Andrade, Mrs. Helen Go and the St. Francis Hospice staff.
Those wishing to honor Remy's memory can donate to St. Francis Hospice.

God has her in His arms, We have her in our heart.