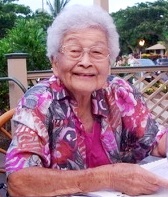 Yoshie Doi Smith of Kekaha was born in Waimea on August 29, 1921. She passed away on October 29, 2020 at KVMH in Waimea. She was a nanny, seamstress and homemaker. Yoshie was a proud member of Waimea High School's Class of 1939.

She was preceded in death by husband, Ambrose Smith; son, Ray Smith; granddaughter, Maude Nalani Shigematsu; parents, Kazunobu & Hatsuyo Doi; brothers, Allan Nobuharu Doi, Tony Tsunenobu Doi

She is survived by sons, Danny David Smith (Carol) of Kekaha, Allan Ambrose Smith (Linda) of Lihue; daughter, Linda Naomi Gut (Ron) of Wasau, Wisconsin; 12 grandchildren, 28 great-grand- children, 6 great-great-grand- children; brother, Omar Nobuso Doi (May) of Richmond, CA; sisters, Mutsue Nakamura (Shigemi, dec.) of Manoa, Oahu, Nobue Tanaka (Richard, dec.) of Hawaii Kai, Oahu; sister-in-law, Nancy Doi of Mililani, Oahu; daughter-in-law, Carolyn Smith of Aina Haina, Oahu.

Inurnment will be at a later date. Please no monetary (koden) offerings. Arrangements assisted by Garden Island Mortuary.