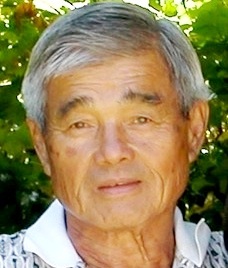 Lt. Colonel Benjamin Kui Fong Ho, 89, of Honolulu, passed away peacefully at Manoa Nui Care Facility on October 23, 2020. Ben was born in Hilo, HI and later moved to Honolulu where he graduated from Ben Parker HS. He attended the University of Hawaii, where he was in the ROTC and was a member of the Tu Chiang Sheh fraternity.
He entered the USAF as a 1st Lt. and retired at the rank of Lt. Colonel. With a family of 5 children in tow, he had various assignments including Travis AFB in California and Yokota AFB in Japan. Ben was a long- time and active Mason, Shriner and fraternity brother. He was an expert golfer, loved to play volleyball, chess, poker, cribbage and putting together jigsaw puzzles.
After over 50 happy years of marriage, he lost his beloved wife Muriel in 2004. He is survived by his sister Miriam Harada, sons Derrick (Juliette) and Jeffrey (Lillian) Ho, daughters Melanie Kelly, Lynette (Terry) Young and Jeanette Ho, his precious grandchildren Tina (Alex) Galang, Jacalyn Ho, Nathan Ho, Erin Kelly and Shaun Kelly. He is also survived by his long-time, dear companion Janice Itsuno, devoted caregiver, Marilyn Vallejos Cruz and the loving family and staff at Manoa Nui.
Throughout his lifetime he had the gift of bringing smiles to everyone in the room and he left a lasting impression on those that knew him. He is loved and will be greatly missed. Private family burial to be held. Due to COVID regulations, a Celebration of Life will be held at a later date.