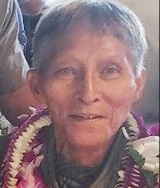 Fernando "Undong" Labasan, 77, of Wahiawa, Hawaii, passed away on December 5, 2020. Born September 28, 1943.
He is survived by wife Lorraine; daughter Loree (Stanford) Dupio; sons, Vincent (Sheary) and Jason (Stephanie) Labasan; 8 grandchildren, 3 great granddaughters; brothers, Edwin (Lucrecia) and Amado Labasan; nieces, and nephews. Hanai family, Tommy (Ruth) Lowery.

To our Loving Husband, Father, Brother, Uncle, Grandfather,
Great grandfather, and most of all, our Friend,
Aloha until we meet again one day in heaven.
WE LOVE YOU!
His Celebration of life and scattering of ashes will be held at a later date.