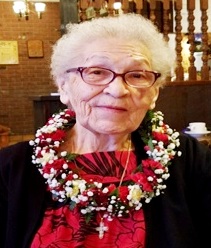 Born 10/05/1929 to 12/19/2020, Marie Winifred Ryan was a longtime Honolulu resident.
Preceded in death by father: Enoch E LaPointe and mother: Charlotte Picotte.
Marie was the eldest of 7 siblings: Lloyd W. LaPointe, Ernestine Davis, Enoch E. Lapointe Jr., Elizabeth Carter, John Lapointe, and Ben Lapointe; children: David Wayne Ludlow, Sr & wife Patti Ludlow. Grandchildren: Lisa Ludlow, David Ludlow, Jr., Lehua Werner, Kathleen/Dolan Tsui, Shay Werner, Jonathan Daniel, Nathan Spiller. Great- Grandchildren: Kanani Kealoha Werner and Ian Kale Tsui.
Marie was a faithful member of His Highest Praise International Honolulu, Pentecostal Church for 32 years.
She was a registered nurse for 41 years; retired in 1996 from Queen's Medical Center in Honolulu, HI.
Marie had a compassionate heart and unconditional love for all people. She will be greatly missed, but never forgotten.
Visitation: 12:00 p.m. - 2:00 p.m. on Sunday, January 17, 2021 at Borthwick Mortuary. Enter from Maunakea Street.