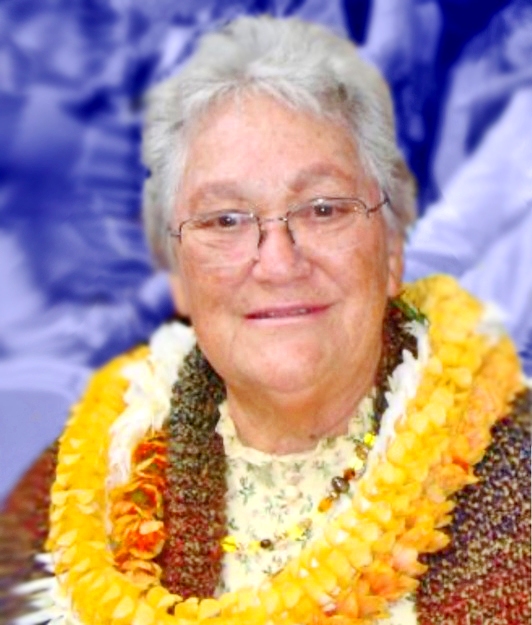 Age 88, passed away November 3, 2020. Gussie was born September 8, 1932 in Honolulu. She is preceded in death by her loving husband Harry; Sons Padeken and Kakela; Sister Sherilyn Iona. She is survived by Sisters Aulike Pacarro & Dayna Wright; Sons Aukai (Desiree), Keolu (Luann) and Daughter-in-law's Stephanie and CindyLou; 11 grandchildren; 18 great-grandchildren.

She was a proud 1950 graduate of Kamehameha School for Girls. After graduating from University of Hawaii, Gussie began working for Kamehameha Schools in various positions but eventually found her home at the Bernice Pauahi Heritage Center where she spent most her life dedicated to doing what she loved, teaching, and perpetuating the Hawaiian culture, values & traditions. She was affectionately known as "Aunty Gussie" by the countless students she influenced and taught over the years.

Gus spent her younger years playing golf with her husband and friends at Moanalua Golf Club. She had a love for reading, teddy bears, butterflies, & anything purple. Gussie was a great collector of things that made her happy which she called her "treasures." In her later years, her joy was found in surrounding herself with all her mo'opuna.

Gussie was a master Hawaiian Quilter and Feather Lei maker. Gus enjoyed teaching, inspiring others with the art of Hawaiian quilting. She enjoyed fellowship with friends during her weekly quilting classes at Queen Emma Summer Palace. Gussie was a member of the Queen Emma Hawaiian Civic Club where she initially learned the craft of Hawaiian Feather Lei making and went on to teach others the beautiful craft. Gussie was a crafty soul and always had some sort of arts & craft project going on. Gussie always said she lived a good life and was thrilled with all the life experiences she had over the years. Her life's mission was to share her knowledge with everyone, which she accomplished.

Gussie's remains will join her husband's at Hawaiian Memorial Veteran's Cemetery. Unfortunately, Due to the pandemic there is no memorial service at this time.