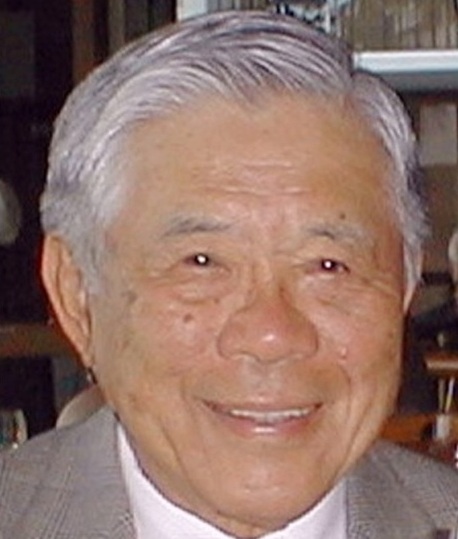 Daniel B.T. Lau, 101, passed peacefully on October 21, 2020. Danny's beloved wife Evelyn Y.Q. Lau predeceased him in 2015. Due to the current pandemic, an in-person service for immediate family was held on Monday, November 9, 2020, at Nuuanu Memorial Park & Mortuary, Honolulu. Private family burial with military honors followed at the National Memorial Cemetery of the Pacific at Punchbowl. Friends and family may view the service and military honors by emailing dbronzestar@gmail.com. Danny was born on July 5, 1919, in Honolulu HI, the oldest child of Daniel Cheong Lau who arrived in Honolulu as a youngster, and Kam Lin Chow, whose mother was also from the See Yup, Toisan district of Guangdong, China. As the oldest child among 6 sisters, Beatrice, Eldora (George Chang), Joyce (Teddy Hee Wai), Martha (Frank Alip), Jayne (Carl Yoshimura), and Carolyn (Kenneth Onaga), and two brothers George (Helen) and Samuel, Danny and his younger siblings grew up in the back of the D. Cheong Lau Store on the corner of Liliha St. and Kunawai Lane.
After graduating from McKinley High, Danny majored in Economics and Business at the University of Hawaii in 1941, where he was recognized as the top intramural athlete, medaled in collegiate track and field events, and became a star baseball player, leading the league in most stolen bases and winning the league batting championship award.
As part of the 298th Hawaiian Infantry Regiment at Schofield Barracks, Danny helped to defend Oahu should there have been a land invasion on December 7, 1941 and thereafter. He then volunteered and was accepted into the US Army Air Force's pilot training program and was sent to the University of Pittsburgh aviation program where he met his future wife Evelyn Yee Quil who was a student there. When infantry forces were needed in Europe, he was also ordered to train troops for the Pennsylvania 78th Lightning Infantry Division as a drill instructor and squad leader. In December 1944, US Army Sgt. Danny Lau entered active ground combat in Germany during the Battle of the Bulge, where he was seriously wounded by a German 88 mm artillery shell (that killed his buddies and a part of which remains in his body). He received the Purple Heart with Oak Leaf Cluster and a Bronze Star for Heroic or Meritorious Achievement in active ground combat against the enemy, and recently was awarded the Congressional Gold Medal for Chinese American Veterans of World War II for his service to our country. After months of recovery and recuperation, Danny travelled back to Pittsburgh to marry Evelyn before returning to Honolulu. Here, they spent much of their early social outings with Tu Chiang Sheh Fraternity, Rho Psi Chinese Professional Fraternity, and at vibrant Chinese community organizations and events.
After gaining valuable work experience in many financial-related fields, Danny and 5 others, including future US Senator Hiram L. Fong, founded Finance Factors, which grew to become the largest locally owned depositary financial loan company, where he worked until his late 90's. He earned his Advanced Management Program Certificate from the University of Hawaii (taught by visiting Harvard Business School professors) and was a lifelong member of ACLI, American Council of Life Insurers. Danny also served as CEO and Chairman of Grand Pacific Life Insurance Company, then the largest locally owned life insurance company. Danny was also Chairman of the Board, Corporate Secretary, and a Director of Finance Enterprises, Finance Factors, Finance Realty (which built Makakilo among other communities), Waipono Investment, Finance Insurance, and other affiliates.
Throughout his life, Danny distinguished himself in the community, volunteering countless hours and generously funding community, educational, and other charitable causes. His awards include UH Alumni Association Distinguished Alumni, UH Lifetime Achievement Award, UH Shidler College of Business Alumni Hall of Honor, McKinley High School Hall of Honor, Public Schools of Hawaii Foundation Distinguished Honoree, Chinese Chamber of Commerce of Hawaii Businessman of the Year, Junior Achievement of Hawaii Business Hall of Fame, United Chinese Society Model Chinese Citizen and its Father of the Year Award, and the Palolo Chinese Home Caring for Generations Award. He was also named Hawaii's Outstanding Older Worker, representing Hawaii at the national awards in D.C. Danny was a lifelong member of United Church of Christ, Judd Street, serving on its standing committee for many years, and donated its beautiful towering stained glass cross window, and led his siblings to refurbish the brass relief in McKenzie Hall and to donate the beautifully carved sanctuary doors.
He was President of the Hawaiian Humane Society, and served on the Boards of the UH Foundation, East West Center Foundation, and UH Alumni Association, and was a Founding board member of the UH Letterwinner's Club earning him the Kane Fernandez Community Service Award. He was a founder of the Wai Kahala Little League, and the local financial softball league, a supporter and lifelong member of Nuuanu YMCA, and has endowed UH business and athletic scholarships (including MLB's Kolten Wong's). He was an avid supporter of UH football, volleyball, basketball, and his beloved Rainbows baseball team. Danny continued to stay physically fit, playing volleyball, handball, and racquetball well into his 80's, and played golf at Waialae CC and senior softball into his 90's, winning several Senior World Master's Softball Championships, and leading a WWII US-Japan Veterans Friendship game in Hiroshima.
Yet, he always made family a priority, providing support and comfort, and rarely missed any of his grandchildren's many sporting events, including coaching them in baseball. Danny and his wife Evelyn raised their children Jeffrey (Susan Tilden), Vicki, Russell (Constance Hee), and Girard (Miyuki Nakahara) with love. Danny is now also survived by 4 sisters, and grandchildren Daniel, Jennifer (Rob Nelson), Gregory, and Eric, and great grandson Blake Nelson.

The family requests that any remembrances in his name be donated to the University of Hawaii Foundation.