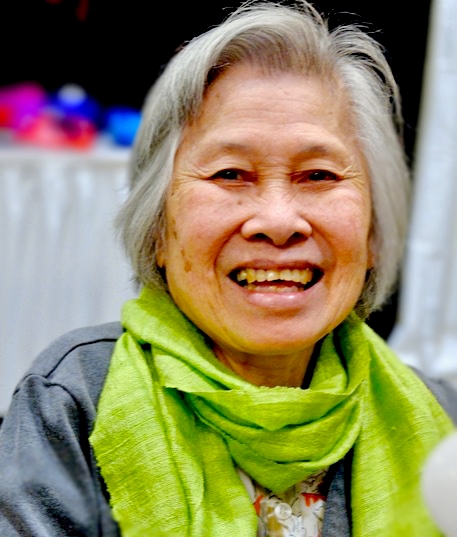 Judith Mew Hung Chang Kwock, 95, passed away on December 7, 2020.

She was preceded in death by her husband, Robert Chan Ming Kwock. She is survived by her son, Milton (Kathy Hamada-Kwock), daughters Rhodinne (Fred) Wang, and Liane (Don) Fales, brother, Paul Chang, sisters Beatrice Aki and Mollie Chang, 7 grandchildren, Kenji (Mara) Kwock, Kimi (Andrew) Perez, Alex (Electra Hui) Wang, Stephanie (Christopher Sikich) Wang, Michelle Wang, Chelsey (Wesley) Miller, Bobby (Crystal Nguyen) Fales, and 6 great-grandchildren.

Judy loved being with her family, hugging babies, baking banana and mango bread, growing orchids, "Hints from Heloise", sewing, knitting, crocheting, and watching soap operas. Starting work as a teller at American Security Bank after graduating from McKinley High School, she quickly became a favorite among many of the bank's regular customers who would wait in her line, even if it was twice as long as others. She was promoted to head teller and was trusted to prepare payroll checks for select businesses. A natural-born saleswoman, she sold enough World's Finest Chocolate candy for school fundraisers, making her children "top sellers!" Judy wasn't a foodie, but her favorite foods were Chinese chicken salad, mango bread, blueberry cream cheese pie and any desserts. We will miss her smile and her gau at Chinese New Year and her ono banana and mango bread.

The family would like to thank and acknowledge the nursing and administrative staff of Manoa Senior Care in Kaimuki for their warm and loving care, the crew at Bristol Hospice Care, and the Queen's Geriatrics Services team led by Dr. Monica Cheung Katz and Jessica Ackerman, APRN.

Due to COVID-19 restrictions, a private family service and burial was held.