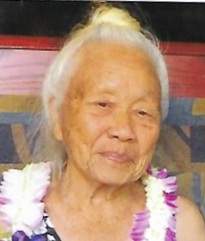 Our Mom, grandmother, great grandmother and great great grandmother, Mary "Kon Tai" Young Hom, 100, of Kailua passed away peacefully in her sleep on January 23, 2021 in North Las Vegas, Nevada while visiting family. She was born in Honolulu, Territory of Hawaii on September 30, 1920 to Young Kai (father) and Ching Lim Cha (mother), the youngest sibling to brother Jimmy and sister Violet. She later became the hanai daughter to Louis and Alice Mahoe of Kailua, hanai sister to Solo, Lei, Howell, Ah Kui and Ah Pei.
Her younger years and summers were spent in Kailua, where her hanai father taught her how to swim (back then, you had to learn to swim or you drown), later learned to dive around flat island for lobster and became an avid swimmer.
She grew up in an era where girls completed their schooling at the 6th grade level, but she was determined to get higher education. At 14, she started working at the cannery in the summers to earn her tuition for the upcoming years along with doing some babysitting during the school year. Her determination led her to graduate from Sacred Hearts Academy in 1939. Inspired to seek higher education came from going to church, as a child. She often accompanied her hanai father to Kawaihao Church, where she attended Sunday School classes downstairs in the basement, then broadened her faith at Sacred Hearts Academy.
She married John Paul Hom on February 21, 1943, moved from Kaimuki to Liliha, and became a housewife. She attended United Church of Christ, Hawaiian Electric Cooking Classes, worked as a Pre-school Teacher and after raising her 4 children, she and her husband moved to Kailua.
They became Property Managers, took up golfing, she even scored an Ace (hole-in-one) at the Pali Golf Course, learned ballroom dancing, both were very competitive in playing cards (Trumps, Hearts, Rummy, Steal the Pack, Donkey and Old Maid) and she continued swimming until 2017. Also, exercised her never-ending faith throughout the years by attending New Hope at Farrington High School, New Hope Kaneohe and then making New Hope Kailua with Pastor Rick Stinton her home church.
Survived by sons: Bruce (Elizabeth), Brian, Gordon; daughter Cassandra and grandchildren, great grandchildren, great great grandchildren, nieces, nephews and many more.
Due to Covid-19 a private viewing and se

rvice will be held on Wednesday, March 3, 2021 with Drive-thru Visitation
from 10:00 a.m. to 12:00 p.m. at Borthwick Mortuary.
Enter from 1330 Maunakea Street, Honolulu.