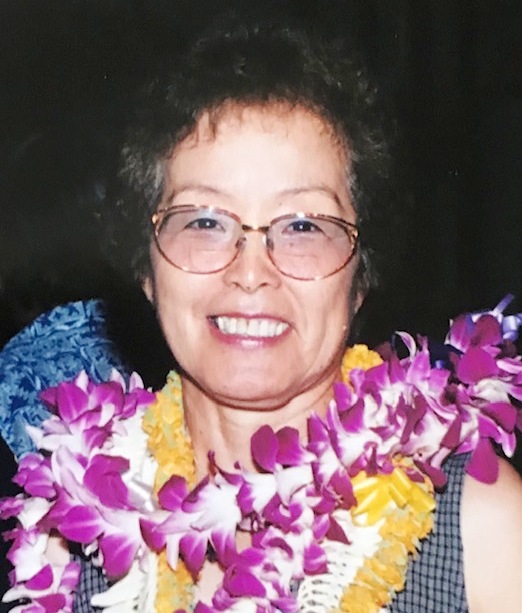 Setsuko Bluemke (85) passed away peacefully on January 10, 2021. She was born along with six siblings in Papa'aloa, Hawai'i, to a plantation worker family.

She graduated from Laupahoehoe High School in 1953 and joined the U.S. Air Force serving until 1959 when her daughter Sharon was born. While in the Air Force, she met her future husband of 35 years, Christopher Bluemke. A strong believer of education, she enrolled in college courses whenever circumstances permitted and proudly earned a Baccalaureate degree from UH Manoa in 1979. Setsuko worked for the U.S. Air Force as a civilian for over 35 years with most of her time in the Civilian Personnel Office at Hickam AFB where she met many lifelong friends.

After retiring, she became a volunteer with several organizations, including the Honolulu Police Department's Crime Stoppers program where she volunteered for 12 years and attended the HPD's 13th Citizen's Police Academy. Setsuko also volunteered her time at Wahiawa General Hospital and Wahiawa District Court. In 2001, she was a nominee for the City and County of Honolulu's Outstanding Senior Citizen Award.

"Sets," as her friends called her, loved flowers, and joined the Mililani Orchid Club where she learned about growing orchids. She enjoyed gardening; baking; attending her grandchildren's performances and sports events; going to local plays and musicals; and participating in many charity and cancer walks. She also enjoyed reconnecting with her former high school classmates and in 2003, eventually became reacquainted with a former schoolmate, Harold Aoyagi, who would become her traveling, gambling, and social companion for the next 14 years.

Setsuko is preceded in death by her husband Christopher, her daughter Sharon, and her companion Harold. She is survived by her son Alan (Karen); granddaughters Brooke (Sanchez) and Kylie; three great grandsons; sister Lianne Shiroma and numerous nieces and nephews.

A private burial will be held at Hawai'i State Veterans Cemetery in Kaneohe, Hawaii.