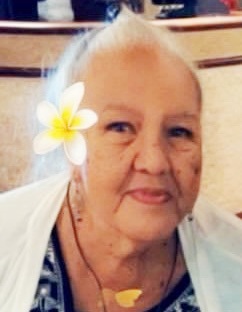 82, of Wahiawa, Hawaii, passed away peacefully on January 31, 2021 with her loving family with her. She was born to Estanislao & Annie Lestino, on January 7, 1939 and raised in Kunia Camp with four siblings. She graduated from Leilehua HS in 1957.
A humble, gentle, kind hearted person, she preferred things simple. Her comforting, loving ways and cheerful smiles will be most remembered and missed.
Emily was preceded in her passing by her husband Larry, grandson Travis, and great granddaughter Angel.
She is survived by daughters: Kimberly (James), Kathleen (Peter), Denette (Donna), Kristin (Castor, Jr.); son Ryan; six grandchildren; eight great grandchildren and two great great grandchildren.
A private service will be held on Tuesday, March 9, 2021 at Valley of the Temples – Trousdale Chapel, followed by Drive-thru Visitations from 11:45 a.m. – 12:45 p.m. (please limit the number of people in vehicle to 5). She will be laid to rest at Hawaii State Veterans Cemetery, alongside her beloved husband.