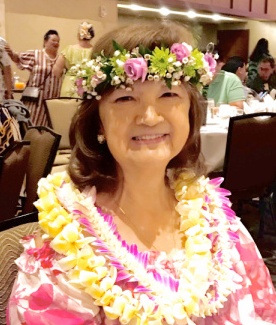 Surrounded by her 2 daughters, Iwalani peacefully passed away in Portland, Oregon, on March 20, 2020 at the age of 70.
Iwalani was born on December 1, 1949 in Honolulu, Hawaii to Harry and Helen Iseri. She had 3 brothers, Nelson (dec. 2018), Milton (dec. 2004) and Gary (dec. 2018) and 2 sisters, Aileen Kekahuna (dec.) and Lorna Cordeiro. As the youngest of 6 children, she was cared for by all of her siblings. Iwalani was raised in Ewa and graduated from Kamehameha Schools in 1967. She worked for Sheraton Hotels for over 20 years and ended her career with Honolulu Cellular/AT&T.
Iwalani was preceded in death by her loving husband Ainsley K. Mahikoa. She is survived by daughters Cherilyn Kaleo (Jeremy) Conant, and Brooke Anela (Aleina) Rodenhurst; grandchildren: Kiana, Malia, Makanani, and Jhurnee; sister Lorna (Freddy) C.; sisters-in-law, Annette S. and Carol I. and many nieces, nephews, cousins, and friends.
Drive-thru Celebration of Life: 9:00 a.m. - 12:00 p.m. on Saturday, March 20, 2021 at 163 Kuupua Street in Kailua. Street goes in a circle for slow continued speed to take you back out to main road.

Any questions, please call or text 808-692-6542.