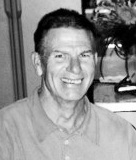 John Berrington, age 78, of Riverview Landing in Otsego, was with his family when he died on January 30, 2021. Born in Chicago, John grew up on the Kamehameha Schools-Kapalama campus, and graduated from Punahou School on O'ahu, Hawai'i. A competitive athlete from birth, John excelled at sports including surfing, basketball, baseball, and football. Football took him to Iowa where he played Center for Iowa State. "Big John" was drafted by the NFL and signed by the Pittsburgh Steelers. "He's agile, hits hard, and has great size" describes his play for the Pennsylvania Mustangs, the Orlando Panthers, and the Des Moines Warriors.
"Big John" did not only refer to his stature; he was charismatic, and the person everyone else looked forward to seeing. Although he had originally hoped to be a cattle rancher, John had a long career in sales, including at 3M in Minnesota. John later moved to California and enjoyed spending time at the beach and competing in bodysurfing contests. He was also involved with Torrance Aikido where he eventually taught classes and achieved the Shodan. He also fell in love with golf in Los Angeles where he would sometimes sleep in his car at the golf course to be one of the first ones out golfing. In retirement, this love of golf brought him to a house on a golf course in Prescott, Arizona. Eventually John moved back to Minnesota to be close to family. As his dementia progressed, he was less athletic, but he always had a smile for family, caregivers, and Hawaiian music.
Preceded in death by his parents, Jack and Audrey. John is survived by his sons, Jeff (Denise) Berrington and Brad Berrington (Carl Otto); granddaughters, Adrienne and Chloe Berrington; brother Robert (Koby).

Celebration of Life March 25, 2021 at 9:00 a.m. HST hosted by Brunswick United Methodist Church, Crystal, Minnesota.
The service will be available online at: www.facebook.com/brunswicklife.org/live. Listen to the celebration toll-free: (844) 857-5555, then enter code 2507961#.