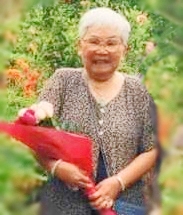 Surrounded by her loving family, Cho Thi "Hoa" Mulherin, 83, of Kaneohe, Oahu, passed away peacefully at home on Monday, March 15.
Born in Ho Chi Minh City, Vietnam, "Hoa" (as she was known to friends) moved with her husband and children to Hawaii in 1972, settling in Kailua at first before eventually finding a permanent home in Kaneohe. Besides her love of family, she also loved a well-cooked meal, and became revered as much for her Eggs Benedict dish with "secret" Hollandaise sauce on Christmas mornings as she was for her authentic Vietnamese favorites like pho, and spring and summer rolls. She ultimately turned her love of food into a career as an amazing cook for Jake's Restaurant and the Officer's Club at Marine Corps Base Hawaii Kaneohe Bay.
A practicing Buddhist, Hoa was a member of Chua Linh Son Buddhist Temple in Wahiawa.
She is survived by children Lien Tyler, Nena Mossman, Patricia Mulherin, William Mulherin, Dung Thi My Nguyen, Dung Duc Nguyen, Hoa Thi My Nguyen and Long Mong Nguyen; siblings Sinh Van Dang, Con Van Dang, Het Thi Dang, Le Thi Dang; seven sons- and daughters-in-law, as well as 19 grandchildren and six great-grand- children. She is preceded in death by her beloved husband of many years, Gerald Mulherin.
Inurnment is scheduled for 9 a.m. April 1 at Valley View, Hawaiian Memorial Park Cemetery.