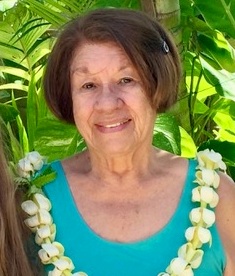 One year ago, on March 25, 2020, Our beloved Wife, Mother and Grandmother ascended into heaven at the age of 79.
Born July 7, 1940 in Pahala Ka'u to Edward Kam Wing Chu and Alice Hana Wai Chong Kumukahi, she was raised by her grandmother, Mary Kaleiokina Kuanoni, in Punalu'u Ka'u, just a few yards from her beloved Punalu'u Beach. She has loving memories of her grandmother raising her, weaving lauhala, and teaching her about her Hawaiian culture. They moved to Manono street in Hilo for a short time and when her grandmother passed, she moved to Kalihi, Oahu to be with her family. She had 3 sisters and 1 brother, Hannah Mae, Mildred, Gay Lynn, and Edward. She attended Kalihi Elementary, Kalakaua Intermediate, and Farrington High School. She was a song leader in high school and graduated in the class of 1958.
She married Johnny (Tony) Pascua and had 4 children; John, Johnnette, Jaye and Jonathan. She later married Gilbert Galera and gained 3 stepchildren; John, Brian, and Sheleigh. Affectionately called "Puna", she and Gilbert have 23 Mo'opuna.
She lived in Mililani and was a cashier for Foodland for over 20 years. She enjoyed being with family and friends, cooking, shopping, playing cards and traveling to Las Vegas. She was very proud of her Hawaiian heritage and lived her life with Aloha. Loved by so many, she will be greatly missed.
Me Ke Aloha Pumehana, A Hui Hou Kakou.