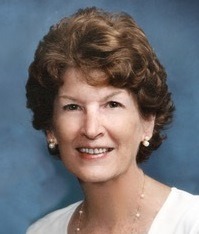 82, entered the gates of heaven on July 27, 2020. Patricia went by the name of Patti, and her family lovingly called her Nina. She loved being known as Nina, and even had customized plates with "Da Nina" on her classic mustang convertible.
Patti is survived by her husband Larry L. Cundiff Sr., four children, Larry Jr. (Kim), Randy (Teresa), Robert and Kimberly (Ian), five kindred grandchildren, Tyler, Travis, Erin, Nicholas and Kristin, 1 step-grandchild, Micha and seven additional hanai grandchildren.
Patti was born June 12, 1938, in the small town of Parma, Michigan. She and younger brother Don, were the children of Robert and Evagene Woodard. She spent her childhood in a small town environment where her strength in character and love of family were established. Patti attended Michigan State University where she met her husband and love of her life, Larry Cundiff, a local boy from Hawaii on a football scholarship. Patti and Larry were married December 19, 1959. Patti first visited Hawaii to watch Larry play in the Hula Bowl. She instantly fell in love with Hawaii, and settled down on the Windward side of Oahu.
Patti's family was the essence of her life, and she was the strength of their foundation. She dedicated her entire life to supporting, nurturing and encouraging her children in school, sports, extracurricular activities, and generally guiding them to be good citizens. She was a den mother, brownie troop leader, and team mother to numerous little league teams. Patti had a huge heart. She was loving, thoughtful and kind. She found great joy in taking care of people, even beyond the boundary of her immediate family.
Patti was very efficient and quite gifted in her ability to be an amazing mom raising four children while at the same time volunteering time in the community, supporting her husband in his professional career, and succeeding in various professional interests. She started, owned and managed her own designer-clothes boutique known as PS Boutique, in Enchanted Lakes, and later became a successful residential real estate agent, in the Kailua market.
In her free time, Patti loved arts and crafts. She could bring life to anything, especially with her gifted talent using ribbons and bows. She was graced with class and perfection in all she did. You could always tell when Patti wrapped a package, because it was caringly perfect, just like her. Reading, traveling and playing games with her family were also things she loved and you didn't mess with Nina at the card table, as she had one serious poker face. No matter what they were doing, she always enjoyed laughing and sharing time with her family, as this was her true passion.
Her husband adoringly says, "Nina was awesome. She was the most elegant, devoted, intelligent, graceful, poised, classy, and tender- loving person I have ever known. She was my wife, my partner and my best friend".
Nina will be loved and missed forever by all who were blessed to know her.