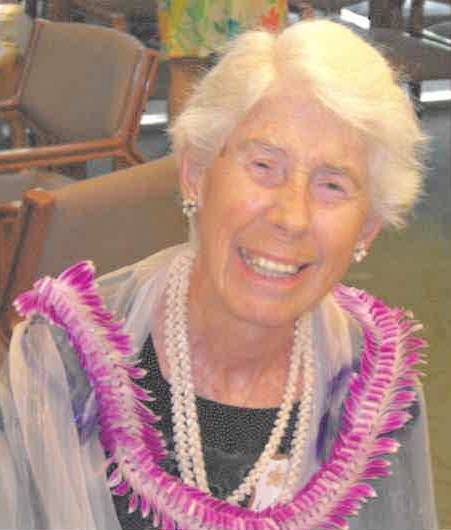 Alta Russell Bento, née Mitchell, died peacefully in her sleep at her home on February 2, 2020. She was 95.
Born in Edmonton, Alberta, Canada Alta remained a Canadian citizen. She was a kind and generous person who was beloved by many people of many cultures and many ages. She is missed!
Alta met her husband, Stanley Francis Bento, from Wailuku, Maui, at the Carnegie Institute of Technology in the drama department, in Pittsburgh, Pennsylvania. After they were married, they moved to Oahu and raised a family of 4 children. Alta and Stanley Bento were big supporters of public education. All four of their children graduated from public high school, then college, and then completed graduate work in various fields of education.
Alta's long life was eventful and full of friendships. Her three careers included, theatre and radio production, teaching high school English and drama, and then adult education English. In retirement she managed ElderHostel trips throughout the south pacific. She enjoyed traveling, meeting new people, and being introduced to their cultures. She was an avid reader and participated in the AAUW book club for more than 50 years. The book club met in her home just a few days before she died. She also volunteered for the Reading Is Fundamental (RIF) program in the public schools.
Alta Russell Bento is survived by her children: Stanley Francis Bento, Jr., Catharine Alta Bento (Heath) Foxlee, Robert Mitchell (Marge) Bento, and Mary Elizabeth Bento; grandchildren: Hunter Coberly, Cullyn Ka'iulani and Dylan Nohea Foxlee, Ian Francis Kealoha and Malia Rose Walker.

A Celebration of Life has yet to be scheduled,
for details please call (808) 658-0151 or (808) 658-6499.