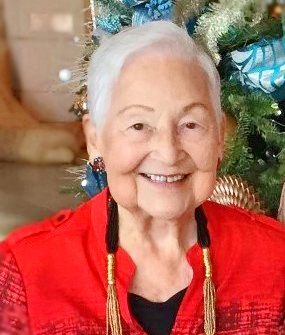 89, of Kaneohe, passed away peacefully at home surrounded by family on April 15, 2021.

Born July 19, 1931 in Honolulu, she graduated from Roosevelt High School then went on to receive an Associate Degree in Nursing from Norton Memorial Infirmary School of Nursing in Louisville, KY and B.S. in Nursing from DePaul University in Chicago, IL. Following a career in nursing in Chicago and Honolulu, she received a Master of Theology and Religious Education from the University of San Francisco, CA. She taught at several Catholic high schools in Honolulu and worked as Director of Religious education at several parishes.

She is survived by husband Ronald T.Y. Choo, son David A. Choo, daughters Mary Choo Loy, Ann Choo Wharton, grandchildren Malia Crowell, Kiana and Isabella Choo Loy, Zachary and Logan Choo, great-grandchildren Joseph, Mikayla and Dominic Crowell.

Services June 17 at St. Ann's Church in Kaneohe. Rosary at 9:30 a.m. Mass at 10 a.m. The family requests no gifts.