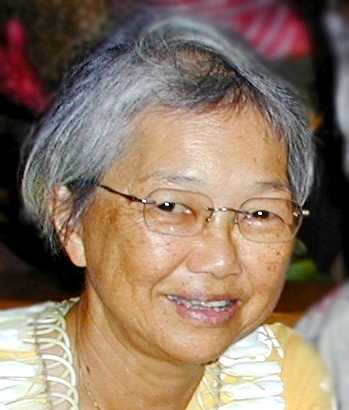 Jean Kadooka Mardfin passed away peacefully Wednesday, May 26, after three days in Maui Memorial Hospital. Jean was 77 and had suffered with Parkinson's Disease for several years but ultimately died of liver failure.

Jean was born to Tsutomu and Masako Mayeda Kadooka of Hilo on March 16, 1944.

After Hilo High, she graduated from Western Reserve University (Cleveland) with a BA in Psychology and a MS in Library Science. In 1962 at WRU she met Ward Mardfin who attended Case Institute of Technology. After graduation, she moved to Bethesda, Maryland where she worked as a Catalog Librarian for the National Institute of Health.

In 1968, Jean moved to Honolulu to be with Ward and got a temporary job as Catalog Librarian for the Municipal Reference Library. In 1969, Mayor Frank Fasi hired her as the permanent City Librarian which made her an agency head directly under the Mayor. That same year Jean and Ward married for life. During her dozen years with the City and County of Honolulu, Jean transformed the Library into the Municipal Reference and Records Center with the addition of a City Archives and a Records Management Program. Meanwhile she earned a MA in Political Science from UH (Manoa) in 1973.

Following the change in Mayor in 1981, Jean attended the University of Hawaii Richardson Law School where she earned her JD in 1984 and passed the Hawaii Bar Exam and joined the State Bar the same year.

At first Jean did freelance legal research but eventually became a Legislative Researcher for the State of Hawaii's Legislative Reference Bureau for another dozen years where she authored or co-authored more than 17 publications.

She loved her retirement in Hana, Maui, since 2002. Her greatest joy was taking excellent care of her pets (female dogs "Hula Girl" and later "Kiko [Spot]" and "Ruby"; and male cat "Pala'ai" [pumpkin]). Throughout her life she loved sewing and making quilts and rag rugs; gardening; and canning local fruits and other goodies. She was always an avid reader. In retirement she volunteered as the head of Hana's branch of the Maui Friends of the Library, volunteered at Mahele Farms, attended Hana's Womens Book Group, and helped lead the Hana Lani Club for seniors.

Jean is survived by her brother, Dr. Craig Kadooka and his family in Hilo, as well as her husband, Ward with whom she celebrated 52 years of marriage on August 2021. As she wanted, her body was donated to the University of Hawaii Burns School of Medicine in Honolulu to aid medical students. Donations may be made in her name to the Hana Community Endowment Fund, Maui Humane Society, and/or Maui Friends of the Library. No memorial service is planned at this time.