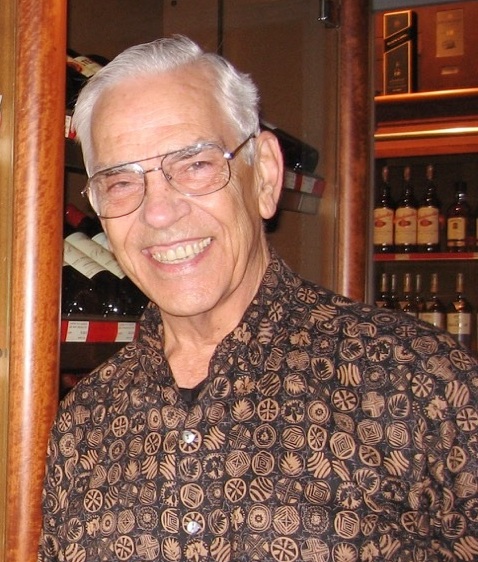 On a wintry day in February 1957, Dr. John Fox, Punahou School president, recruited Princeton senior Bob Torrey as part of a cadre of bright Ivy Leaguers.
After two years, Bob won a U.S. - Cuban government grant to study in Cuba, but Fidel Castro had other plans, so Bob landed at Blair Academy in New Jersey where his son Kent was born. Graduate study (Latin American Studies) at Stanford University soon followed.
Bob then moved to Long Island, New York, commuting to Manhattan to his advertising jobs with J. Walter Thompson and Young & Rubicam. Bob's family now included daughter Ninia "Nia". Uninspired by advertising work, Bob returned to Punahou in 1967, rehired by Dr. Rod McPhee.
Born in Michigan, Bob soon became a genuine kamaaina, marrying a local girl and embracing Hawaii's culture and music. From 1967 to his retirement in 1998, he enjoyed highly productive years at Punahou, teaching all history courses except Russian. He nurtured many Advanced Placement students while creating courses in African, Latin American and Middle Eastern history, the latter a rarity in an American high school. He helped devise Humanities, a course merging social studies, English and science.
Bob traveled on sabbaticals to Europe, Africa, and Latin America. In 1982, he earned a master's degree from the Harvard Graduate School of Education and in 1994, studied in Israel and Egypt as a Fulbright Scholar. In 1996, he became co-director of the Wo International Center, organizing summer programs for students from Asia and directing European study abroad for Punahou students.
Bob relished working with diverse students, many becoming friends. He liked to say he had taught three presidents: Barack Obama, POTUS 44, Punahou '79, and two Punahou School presidents, James Scott '70 and Michael Latham '86.
He often said teaching at Punahou was the best job. He learned as much from students as they from him, and every day was a different challenge.
His family includes his wife Joyce, son Kent '79 (Ann Andros) and daughter Nia '81. Bob grew up in Bermuda and Connecticut with his parents, Lyle B. and Gretchen Torrey, and his brothers, all Princeton men: William C. Torrey (deceased), Lyle Blair Torrey (deceased) and Richard D. Torrey.
Ever the teacher, Bob has donated his body to the Willed Body Program at John A. Burns School of Medicine. His ashes will be scattered at his favorite places: Honolulu, Hanalei, Ashland (Oregon), San Francisco, New York and Paris.

Donations in Bob's memory may be made to Punahou School
(for financial aid), Hawaii FoodBank, or to your favorite charity.

A private Celebration of Life is being planned.
Condolences may be sent to The Torrey Family,
4389 Malia Street, Apt. 122, Honolulu, Hawaii 96821.