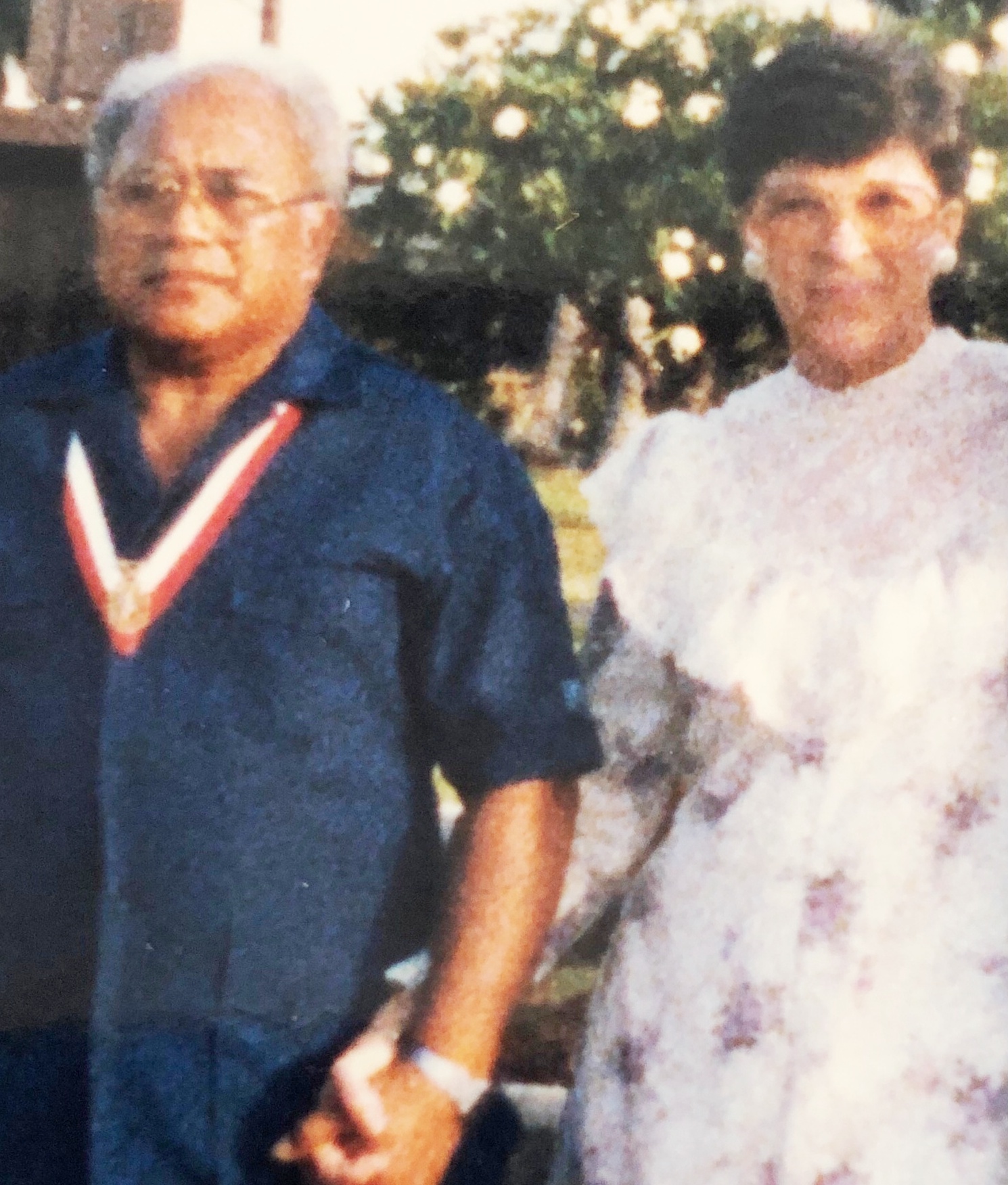 Alene Morris Smith Haleamau was born January 27,1928 and entered the presence of The Almighty on January 4, 2021. She passed peacefully at home with family by her side. Hailing from a train stop town in the blue ridge mountains of Clifton Forge, Virginia, this adventure seeking gal became known to her friends as "Al" and to nieces and nephews as "Aunty Al".
Al graduated from Clifton Forge High School and enrolled in nursing school at St. Lukes in Richmond, Viginia. She then joined the U.S. Army Nurse Corp. Following her Medical Service Officer Course, Al was commissioned a 2nd Lt. and sent to Army Hospital AU 8162 in Fukuoka, Japan. As she walked in to meet her new patient, she ended up meeting the man of her dreams and as fate would have it, she, and a young service man by the name of Julian Kalani "Cornbeef" Haleamau were married in Fukuoka, Japan in 1951. Shortly after Cornbeef, aka "Hale", brought his Virginia bride to Hawaii, where she loved being part of his big extended Ohana.
Al left her career in the Army to encourage Hale to continue his military career. Together they welcomed four children before moving to Okinawa in 1962. Over the next ten years the family moved from Okinawa to California to North Carolina then back to Okinawa. In 1972 the family returned to their family home in Kailua, Hawaii.
Al went back to nursing for a short time before landing a job with Pan American Airways at Honolulu International Airport, as a Clipper Club hostess. She and Hale loved to travel as much as possible. That adventure seeking spirit blessed her younger daughters on trips to Russia, Europe, and Tahiti. Her last overseas adventure took her to Athens, Greece! Climbing the Acropolis to see the Parthenon at 78 years young, tears filled her eyes as she said; "I've only seen this in books. I never even dreamed I would see this in person!"
Al loved each of her grandchildren deeply and taught those both near and far how to swim, play piano and serious card games, of course. Yes, this spunky bridge playing, 400 club bowler loved life and her family well. We will forever be indebted to her for her years of love and labor she poured out for our families. Yet ultimately, we truly rejoice in knowing she is in the presence of our King!
Alene was preceded in death by her husband, Julian Kalani Haleamau and granddaughters, Kela Kanoeanuhea Hughes and Marisa Alena Guerreiro. She is survived by her four children: Karl Kalani (Meegan) Haleamau of Whidbey Island, Washington, Katherine Keahi Haleamau of O'ahu, Leslie Kalihilihiokeanuenue (Milton) Guerreiro of Lake Havasu City, Arizona, and Holly Ann Mahealani (David) Hughes of Renton, Washington. Her legacy of love for adventure and fun lives on through her 11 grandchildren and 18 great grandchildren as well as numerous nieces and nephews.
Alene's family would like to express their deep gratitude to Islands Hospice, Dr. V. and their incredible staff for the exceptional care given our mom. A Big Mahalo Piha to Dr. Stephen Lum and his amazing staff for caring for our mom for over 45 years!
Shout out to Palawiki Street, for all of the flowers, food and abounding aloha over the years. Our hearts are forever knitted to our hale aina and all who have ventured through!

Aloha 'oe mom, be seeing you later. Thanks for all the memories!

We will be hosting a final prayer service for Mom
at the Committal Shelter located
at the Hawaii State Veterans Cemetery, Kaneohe
July 9, 2021 at 1:00 p.m. HST.