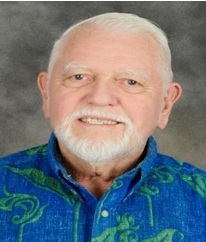 Allen Clark, Ph.D., 82, passed away on May 29, 2021, while on vacation in Whitefish, Montana. Allen's remarkable life began in Delaware, Iowa, where he was born to Charles and Velda Clark on September 29, 1938. He learned to travel early and often (a prominent theme later in his life) as his father was a bridgebuilder and Allen attended the closest school to the next bridge to be built. He attended high school in Manchester, Iowa, where he excelled in track and football. He attended Iowa State University where he earned his B.S. in Geology and attended the University of Idaho where he earned his M.S. and Ph.D. in Geology. His early career was as an Exploration Geologist with Bear Creek Mining Co. after which he joined the U.S. Geological Survey (USGS) and worked in the Alaskan Branch in Menlo Park, California, and Alaska. During this time, he also attended Stanford University where he pursued post-graduate studies equivalent to another Ph.D. in Mineral Economics. He then moved to the USGS' Reston, Virginia, Headquarters where he became the Chief of the Office of Resource Assessment and developed bilateral and multilateral international resource assessment projects in cooperation with other governments and international organizations such as the UNDP, UNESCO, IUGS and ESCAP. During this time, he periodically returned to his geological specialty, igneous petrology, as a co-investigator of the Apollo 9-12 lunar samples for petrofabric and trace element composition and study of the Kilauea Volcano eruptions of the 1970s.
He left the USGS in 1981 to head the International Institute for Resource Assessment in Vienna, Austria for two years. He accepted a position in 1983 at the East-West Center (EWC) in Honolulu, Hawaii, where his mentor, Richard Sheldon, Ph.D., worked after retiring as Chief Geologist of the USGS. Allen initially joined the EWC's Resource Systems Institute where he developed international programs and projects to assess and study various aspects of managing international mineral resources. During this time, he was a forerunner in the field of social-cultural impacts from mining, social risk assessment, deep-ocean resources, and rare earths. He also did significant research and work on disaster management and climate change and managed the Pacific Disaster Center on Maui for the EWC from 2001 to 2006. He later became the Director of the EWC's Professional Development Program from 2017 to 2021.
Allen was a prolific and gifted scientific writer, authoring and co-authoring over 300 professional publications, papers and books, the latest of which was a book published in 2019 entitled "Nexus of Resilience and Public Policy in a Modern Risk Society" with Mika Shimizu, Ph.D., of Kyoto University and contained one of his favorite quotes, "The significant problems we have cannot be solved at the same level of thinking with which we created them" by Albert Einstein. Allen also focused specifically on mentoring and promoting junior colleagues to enable them to reach their greatest potential. During his long career, he worked in nearly every country in the world.
Allen was predeceased by his parents; two sons, Ken Allen and Brett Harlan; a brother, Jan Allen; a niece, Valencia and a great niece, Sheena. Allen is survived by his wife of almost forty years, Jennifer, who lives in their Kailua, Oahu home with their three Salukis and two Abyssinians. He is also survived by his daughter from a previous marriage, Holly Clark Gray (William) of Leesburg, Virginia; four grandchildren: Jason (Mary), Christopher, Lindsay (David) and Daniel (Valerie); four great grandchildren: Declan, Finn, Logan, and Morgan; sister Claudette (Gary) Becker of Toddville, Iowa, brother Kevin (April) of Delaware, Iowa, sister-in-law Joan of Cedar Rapids, Iowa, and nieces, nephews, and cousins. Allen will also be missed by the East-West Center ohana, God-daughter Faye Lowe of Wellington, New Zealand, and numerous friends in Hawaii and all over the globe.
He leaves many favorite research topics and papers unfinished, his cabin near Glacier National Park in Montana not completely outfitted, much loved stories untold to newer generations of family and colleagues, and many rare flowers, berries, birds, and wildlife unspotted.

Godspeed, Allen, may you find peace and rest.

A private family memorial will be held in Anamosa, Iowa.
A second memorial is being planned for a future date in Honolulu.
The family requests that in lieu of flowers, donations be made to
the American Heart Association in his name.