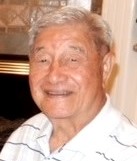 Donald was born in Kaua'i on July 4, 1930 to Solomon Kaulupo'e Lee and Mabel Cecelia Kona. He was a man of great will and determination but was also humble, sentimental, thoughtful, and kind spirited.
In his early years, Donald was raised on a plantation camp in Kaumakani, Kaua'i and was later sent to live on O'ahu. There, he grew up on the slopes of Pu'owaina (Punchbowl), and attended McKinley High School. He was a graduate of the University of Hawai'i and Chaminade College, earning degrees in Social Science, and Law Enforcement with minors in Business, Marketing, and Political Science.
He married his lifelong sweetheart, Marilyn Ana Jellings on June 2, 1951. Together, they had three children: L. Nani Rego (Haines), Mark Scott Lee, and Libby Lee-Hobbs (Garry). He was also a proud grandfather to William and Leeana Rego and Kamana Hobbs. Commonly referred to as "Pops" or "Uncle" he was like a father to his nieces and nephews including, James Glasgow, Manulani Gilman, Mailani Jones, and Bill Griffith.
Donald was master luthier and skillfully made beautiful instruments using a variety of precious Hawaiian and exotic woods. He also made furniture and hand turned wood bowls. Always a problem solver, he was an all-around, 'Mr. Fix-It'. You could commonly find him working on a new project in his shop or playing the ukulele, guitar, Q-cord or steel guitar. He loved all types of music but had a special affinity for the melodious tunes of the old- school Hawaiian genre.
Donald was also an awesome cook and under his direction, we would join as a family to make many delectable dishes. Gatherings will be lovingly remembered with an abundance of ono food, song, libations and laughter.
Donald spent his life in service of others. In his professional career, he served with the Army National Guard while also working with the Honolulu Police Department. Within HPD Donald had various responsibilities including his early days of being a foot patrolman in Chinatown, motor patrol, Metro Squad, recruit training, and administrative operations. When he retired as a Captain in 1983, he was second in command with oversight of the Pearl City and Waianae Districts. After his employment with HPD he worked as a Federal Court Security Officer with the DOJ, U.S. Marshals Service. Upon his retirement there, he faithfully took care of his wife Marilyn as she fell ill, caring for her until her passing in 2015. It was true love that lasted a lifetime and beyond as he passed away to reunite with her on their 70th Wedding Anniversary. We know he missed her more than anything and that they are now reunited in God's embrace.
He was our great and loyal protector who fiercely loved his family. As our beloved Patriarch, he will be deeply missed. Time will not diminish our memory and love for him.
Services will be on July 8, 2021 at Hawaiian Memorial Park in Kaneohe. Visitation at 10am with services at 1130am. Burial to follow. Services presided by nephew Father Shay W. Auerbach S.J. Aloha Attire.