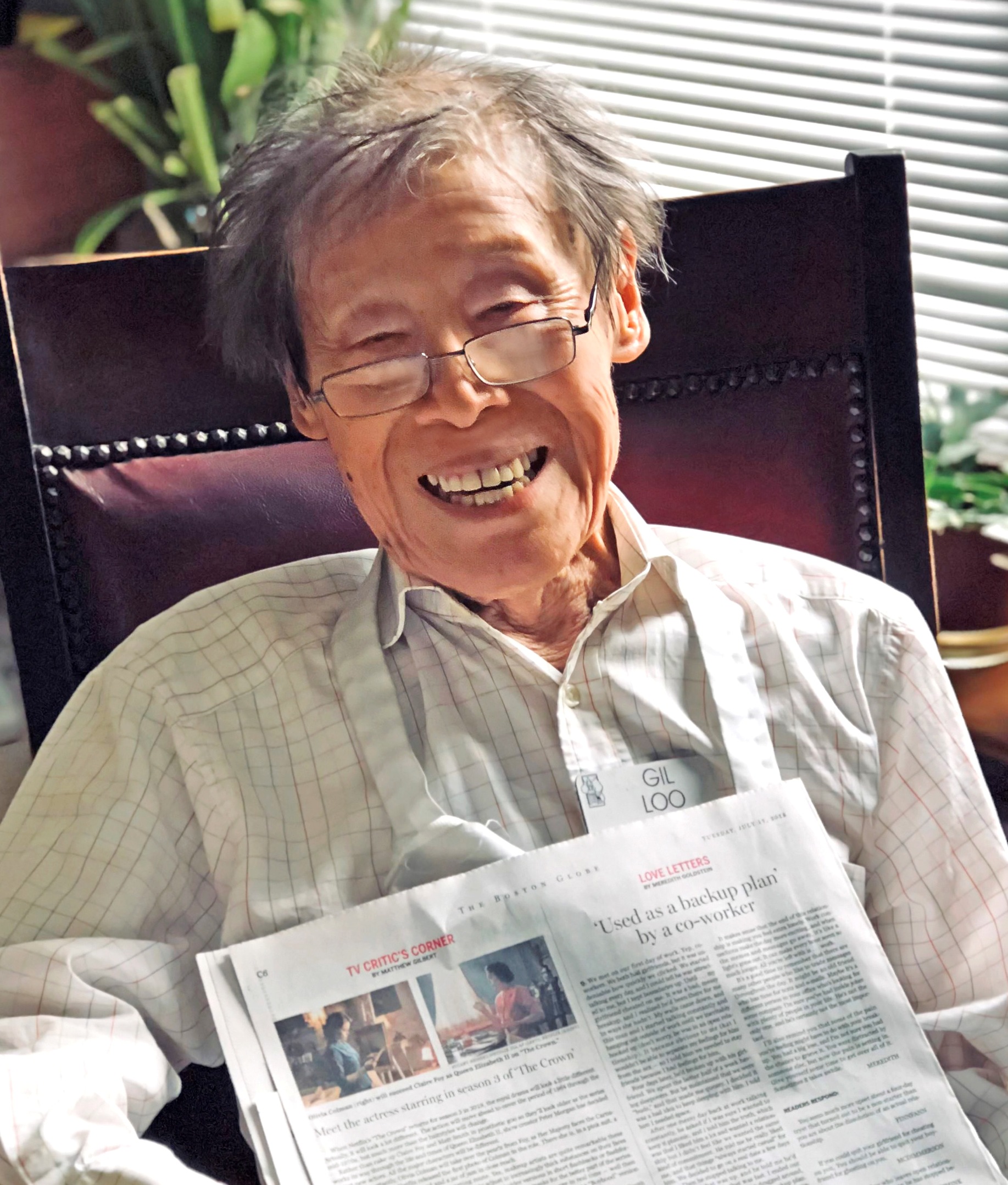 Gilbert "Gil" Bo Sam Loo passed away peacefully in Newton, Massachusetts on December 22, 2020 at the age of 100. Born on July 1, 1920 in Hilo, Gil was the sixth of seven children born to Hon Kau Loo (also known as Loo Akau) and Sai Wan (Ching) Loo (also known as Awana Alama Ching). Preceded in death by his beloved wife, Barbara Richardson Loo, Gil is survived by several nieces, nephews, and their families.

As a child, Gil lived a very busy life in Hilo. Helping out in the family store (the New Market formerly located on Kamehameha Avenue), regularly attending the Chinese Christian Church (Hilo United Community Church), and growing up with six siblings and numerous cousins gave him a life he always appreciated and relived through the stories and family memories he shared with everyone.

After graduating from Hilo High in 1938, Gil attended the University of Hawai?i at Manoa, graduating with a degree in Business Administration in 1941. He enlisted in the United States Army and served proudly from 1941-1945, where he received several honors, including the Bronze Star. Upon discharge from the Army, Gil used his return fare to instead travel to New England, where he fell in love with the beauty of the Fall season. While working as a Fuller Brush salesman and gardener, Gil furthered his education in Connecticut at Wesleyan University and Trinity College. He briefly worked for Royal Typewriter, and was later employed by the Navy Department from 1953-1962. He joined the Internal Revenue Service in 1962 as a Position Classification Specialist in the Boston area and remained there until retirement in 1987.

He married the love of his life, Barbara Richardson on June 21, 1959. Their mutual passion for the outdoors first brought them together, and was a cornerstone throughout their 50+ years of marriage. Together, they explored many trails around the world and hiked the entire 2,100 miles of the Appalachian Trail in the company of members of the Appalachian Mountain Club. They summited all 48 of the 4,000 foot mountains in New England in all four seasons, joining an elite group who can claim this feat.

Gil and Barbara settled into a brownstone apartment on Park Drive, just a few blocks from the famous Fenway Park. It was rare for Gil to go more than a few blocks on the sidewalk without being greeted by name. They loved the museums in the area and regularly attended performances by the Boston Opera. He later moved to Lasell Village in 2013 after Barbara's passing in 2012. Located within Lasell University, Gil delighted in taking fine art and literature courses alongside college students. He saw everyone as a friend, whether family, neighbor, classmate, or nurse. Being away from Hilo, he dedicated himself to expanding his family wherever he went.

Gil leaves behind a lifetime of happy memories, kindness, and generosity. We shall miss his handwritten Christmas letters filled with stories of friends and family. We shall miss his smile in the midst of gatherings of friends and good food. We shall miss his amazingly sharp memory for people, places, and dates. He was a wonderful person to spend time with and to learn from. We will remember his humility, his wry sense of humor, and most of all, his love and respect for everyone.

A virtual celebration of life will be held on Saturday, July 10, 2021. Please contact rhualaniloo@gmail.com for more information.