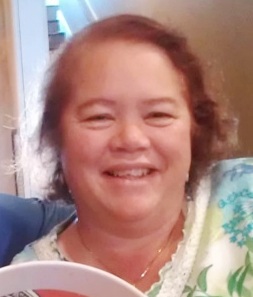 Jeri M.C.Tugman of Kahuku, Hawaii, passed away on February 11, 2021. She was born on February 19, 1960. Jeri was raised in Honolulu and Sunset beach. She attended Kahuku High School and graduated with the class of 1978. She worked for Waimea Falls, Foodland and her concern for special education children led her to a career working for the State of Hawaii, Department of Education, where she worked as an educational assistant for over 30 years. She retired from Kahuku High School in 2019.
Jeri coached Kahuku High School Girls Softball, she also enjoyed playing sports and attended most KHS sport activities, football, basketball, softball Volleyball etc…
Jeri lived a life of service to others with a loving, giving heart. Throughout her life, family and friends could always count on Jeri's help; good nature and ready smile. She will be dearly missed.
Predeceased by her parents, Dominador Cabreros and Florance Tsuruko Sakima and her brother Rodney Choy. Jeri is survived by husband Michael Alfred Tugman; brothers Jon and James; hanai son James Jr.; hanai grandson Robert; aunties, uncles, nieces, nephews and many other relatives and friends.

Drive-thru Services for Jeri will be held on Sunday, July 25, 2021
from 10:00 a.m. to 2:00 p.m. in Waialua Shopping Center.

The family requests no flowers. Please observe COVID restrictions.