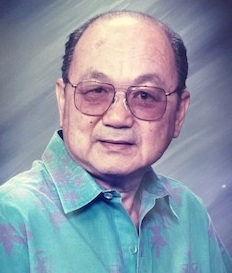 Gordon left this world on May 10, 2021, after spending a joyous Mother's Day reunion with his family at his home of 59 years in Kaneohe. He was 85.
Gordon was born July 30, 1935, to Joseph Kim Fong Ching, and Esther Ah See (aka See Moi) Leu, at home, in Koolaupoko, Heeia. He spent his formative years at Benjamin Parker Elementary School, and graduated from J.B. Castle High School in 1953, where he was class treasurer for 4 years. He participated in track, baseball, football, and band as a trumpeter, and academically excelled. He recalls seeing the zeroes flying over the Koolaus, losing his father at age 8, and delivering papers to the soldiers camped on what is now, the Pali Golf Course.
His legacy statement in his senior yearbook reads, "I am very fond of the company of ladies," which proved prophetic as he is survived by his loving wife of 66 years, Agnes Matayoshi, who he married on April 17, 1955, at St. Peter's Church in Honolulu and four daughters: Lori (Dwayne) Ching-Gibbs, Geri Ching, Teri (Wesley) Ching-Miyashiro, and Sheri (Gregg) Oishi.
Gordon worked for the City and County of Honolulu (Honolulu Redevelopment Agency) for more than 40 years as an Engineer Technician and surveyor, and witnessed the island change from a sleepy paradise to a bustling community.
In his later years, he became Gung Gung to nine: Kai, Robert, Rae, Alex, Bear, Matthew, Maxx, Michael, and Maclain and Tai Gung to six: Taitea, Raihau, Kira, Kaeten, Kiana, and Kaizen. Gordon's greatest joys in life were his family, and he delighted in giving them the simple pleasure of their favorite foods at weekly Sunday gatherings. His engineering mind excelled at innovative woodworks and he fashioned many purposeful objects. He bowled for many years in leagues, owning multiple 300 games. Trips to Las Vegas over 3 decades earned him accolades at his favorite hotels, and memories with friends and his extended Kauai family. Gardening occupied his sunset years, and he enjoyed greeting passersby as he tended his yard. He will be missed by all he touched as a quiet man, with a quick grin, and a large heart.
His siblings included: Alvin (dec.) and Mabel Ching, Beryl & Riley Kam (both dec.), Corinne (Henry dec.) Chu, Daphne (James dec.) Chow, Estelle (dec.) Lum, Harriet Chang, and Inez Chang. He is also Uncle to many nieces and nephews and extended family.

Final farewells took place at Koolau Circle
at Hawaiian Memorial Park on June 24, 2021.