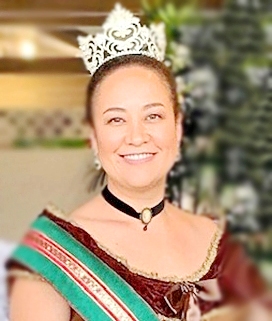 Sharnell Kamila (Javillonar) Wilson, known to friends as "Shar" peacefully passed away on June 23, 2021, at the age of 40 in Honolulu.

Sharnell was born on January 16, 1981, and raised in Kohala, Hawaii to Manuel Sr. & Dorothy Javillonar.

She is a Kohala High School class of 1999 graduate, a 2004 Alumni of Colorado Mesa University.

Do-It-All woman as a faithful wife, mother, homeschool teacher, business owner, daughter, sister, friend, active Christian and dedicated community member. They recently relocated to West Oahu where she would have maintained her selfless position as the biggest supporter of her husband and children's dreams and pursuits. Sharnell & Chai still stand as the 2019 Merrie Monarch Mo'I Kane and Mo'I Wahine.

She leaves to cherish her memory: the love of her life husband Jason "Chai" Wilson, 4 Children sons Hezekiah, Zhai and Xavier, and daughter Alayah. Parents Manuel Sr. & Dorothy Javillonar. Siblings Manuel "Mano Boy" Jr. (Caren) Javillonar, Shannon "Shaq" (Fran) Javillonar & Mandy (Fred) Dona. Nieces Kiera & Farah, Nephews Azariah, Zakary, Hunter & Mykah. Numerous Family & Friends

Visitation will be held at 5:30 pm on Friday July 30th, 2021 at Kohala Gospel of Salvation Church.

You may send condolences to: Jason Chai Wilson 4745 W.Ekahi St. Apt B. Ewa Beach, HI 96706.