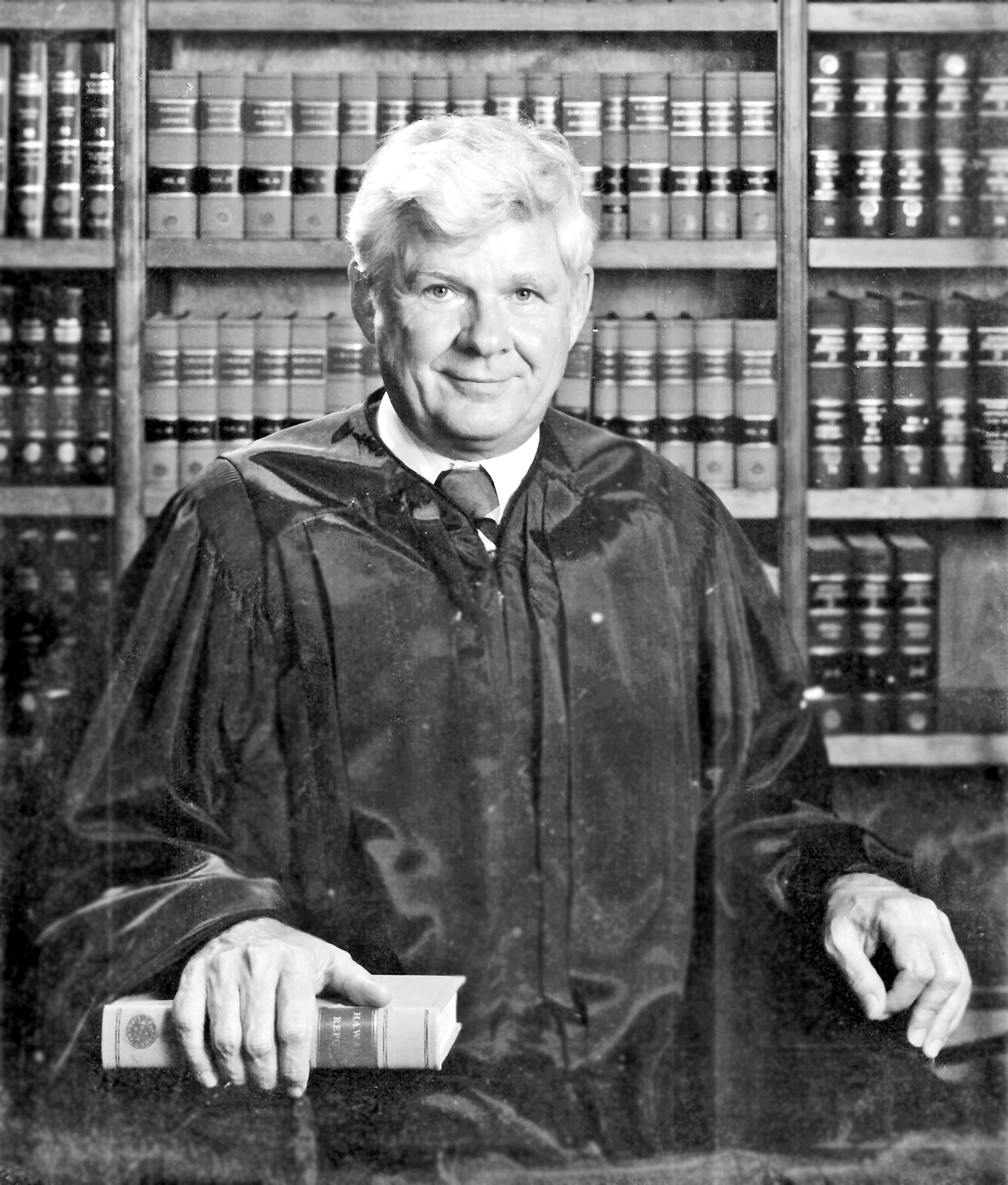 Retired Hawaii Supreme Court Justice Frank David Padgett, passed away in Honolulu on July 11th, 2021. His family was by his side as he quietly and peacefully moved on. Frank was born on March 9, 1923 in Vincennes, Indiana to David and Eva Padgett. Growing up, he was a gifted student, a Boy Scout and a newspaper boy from the age of 11. He graduated from high school with honors and won an academic scholarship to attend Harvard College in 1941. He joined the Harvard Swim Team and lettered during his sophomore year.
He was called up to active duty in 1943 and began training as a bomber pilot in the U.S. Army/Air Force. He earned his wings in 1944 and was assigned to the 308th. Bomb Group headquartered in Kunming, China. His job was flying low level bombing missions against enemy shipping in the South China Sea. On New Years Day, 1945, while on a mission over the Gulf of Tonkin, his B-24 Liberator was hit by antiaircraft fire and Frank and his crew were forced to bail out over French Indochina. All crewmembers survived the jump, but three of them, including Frank, were captured by the Japanese and spent the next eight months as POWs in Hanoi and Saigon. They were liberated in August of 1945 and airlifted out of Saigon and back to America.
Frank spent the next six months in a military hospital as he was treated for the tropical diseases that had nearly killed him in prison camp. While there, he was watched over by, in his words, "a stunning blonde nurse" from Georgia, 2nd. Lt. Sibyl Pharr. After a short romance, they married and Frank, with his new bride, went back to Harvard Law School where he graduated in 1948. During that time, Frank and Sibyl, would start a family with, first a son and then a daughter.
Frank was offered a job with the Honolulu law firm of Robertson, Castle and Anthony and the small family moved to Oahu in 1948. Because of the one year residency requirement, Frank had to wait until 1949 to take the bar exam.
In early 1950, he was sworn in by the Chief Justice of the Hawaii Supreme Court as a attorney. His first appearance as a practicing lawyer was in the case of Kotohira Jinsha Temple vs. U.S. Alien Property Custodian. During the war, the government seized the Kotohira Jinsha property in Kalihi and were now putting it up for sale. The temple hired Frank as their attorney. He argued the case before Federal Judge J. Frank McLaughlin and the court found in his favor. The Kotohira Jinsha community was given back their temple and property.
That victory was the beginning of a long and successful career, with Robertson, Castle and Anthony and his own law firm, Padgett, Greeley, Marumoto and Akinaka. Frank and Sibyl raised a family of six children, living on a hill overlooking beautiful Kaneohe Bay. He was an avid diver and taught his children to love the ocean as he did. Frank loved Maui and the many Napili summers spent spearfishing with his dear friend Kep Aluli. In 1978 Frank was confirmed as a judge on the newly formed Hawaii Intermediate Court of Appeals, and several years later he was nominated to be an Associate Justice on the Hawaii Supreme Court. He served there until he retired at the age of 70.
Frank and Sibyl lived in Kula on Maui, then moved into Kahala Nui in Honolulu, where they had a busy social life living alongside many of their friends from the old days. Sibyl passed away in 2019. Frank leaves behind his six children David (Joan) Padgett, Elizabeth (Rick) Rost, Glen (Alexander) Budge, Jamie (Melanie) Padgett, Matthew Padgett and Nathaniel (Cindy) Padgett, 17 grandchildren and 25 great-grandchildren.
Many thanks to the Hi' Olani Assisted Living Team and to St. Francis Hospice Care. Thanks also to the V.A. and especially to Joy Kurihara, APRN, GNP who always went above and beyond the call, and Dr. Dacanay MD and his nurse Rose.
There will be a Celebration of Life at a later date. In lieu of flowers, donations can be made to Saint Francis Hospice Care.