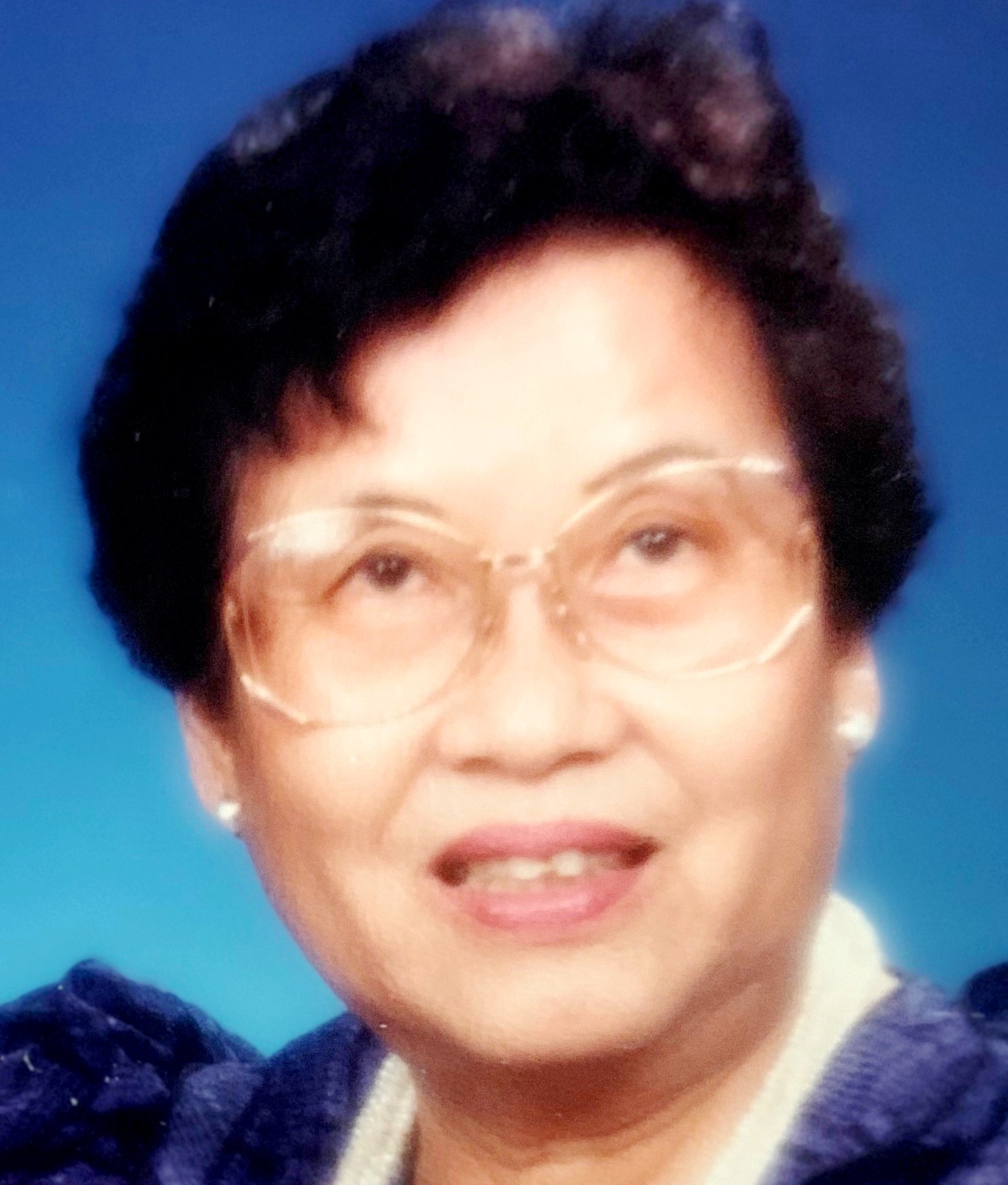 92, died peacefully at her home in Honolulu, Hawaii on Wednesday, June 23, 2021, surrounded by loved ones. She is preceded in death by her husband of 48 years, Mauricio; siblings Eliseo, Efren, Herman, Eloy Jr., Nestor, Arcenia, and Edwardo; and grandson Randy; survived by her siblings Norma, Priscilla, and Erlinda, children Grace, Lydia, Maurice, and Margie; grandchildren Elyse, Audrey, Gabriel, Jordan, Jasmine, and Daryl; and great- grandchildren Anastasia and Mackenzie. She has made the next step in the journey of life and reunites with her grandparents, parents, and siblings, and Randy. Most of all, she reunites with her beloved husband, Mauricio.

Funeral services are on Thursday, August 12, 2021, at Borthwick Mortuary. Visitation is from 9:30 a.m. to 11:00 a.m. followed by a Catholic funeral service from 11:00 a.m. to 12 p.m. Private burial to be held on a later date and time.

If you ever met Lydia, you would remember her. She had a straightforward personality. Yet, beneath that no-holds-barred front was a passionate and caring person who loved her family dearly. Born on September 9, 1928, to Eloy Tan Koh and Graciana Saez Koh (née Kau) in Binondo, Metropolitan Manila, Philippines, Lydia was the eldest of eleven children. She helped many of her siblings create lives in the United States. Her strength was forged during World War II when, as a young girl, she lived through the Japanese occupation of the Philippines. In 1954, she then used her strength to earn a Doctor of Medicine from the prestigious University of Santo Tomas. That same year, she left the Philippines to complete her residency at Saint Francis Hospital in Honolulu, Hawaii.

One day during her tenure, Mauricio Bolosan dropped his sister Genedina, a nursing instructor at Saint Francis Hospital School of Nursing, off at work. Rushing to the Emergency Room, Dr. Lydia Koh passed by Mauricio and immediately caught his eye. They later met at a picnic on the beach meant for the hospital's new resident doctors and their romance began. Lydia and Mauricio married on the morning of December 31, 1955 at Saint Theresa's Church. They had a reception with family and friends at the Ewa Plantation Clubhouse and honeymooned on Kauai at the Coco Palms Resort.

When C&H Sugar still grew sugarcane on Oahu, Lydia set up her general practice office in Aiea. She served and cared for the West Oahu community for 44 years as a brilliant diagnostician, often receiving produce, fish, and once, 17 flats of eggs for her services. She tended to generations of families and helped deliver hundreds of babies.

Being a woman of deep faith, Lydia attended mass at the same church she was married in, the now Co-Cathedral of Saint Therese of the Child Jesus. She enjoyed going on picnics, going to the beach, fishing with her immediate and extended family. She would cook the crabs her husband and children caught, creating succulent feasts. She especially enjoyed going disco dancing with her husband in the '70s. Lydia was an avid reader and passed that passion onto her children. Education was of the utmost importance to her. She often told her children, "Shoot for the moon! If you miss it then you'll be among the stars."

As the years went by, her children left the nest, got married, and had families of their own, becoming parents and grandparents just like her. Her house was always filled with her children, grandchildren, and great-grandchildren as well as her siblings, nieces, nephews, and friends. She retired from her practice in December 31, 2003 eight months after Mauricio's passing. The more recent years found her missing memories and forgetting as dementia took a hold of her, but never lessened her fire. Last February, her family gathered around her as she began hospice care in the comfort of her home. She was expected to pass then but lived five more months. She always insisted on living on her own terms and never let anyone tell her otherwise.